"I Stole a Pair of…" – $4 Million Steamer Valkyrae Reveals Getting Banned From a Marketplace for Stealing Once
Published 01/25/2023, 10:15 AM EST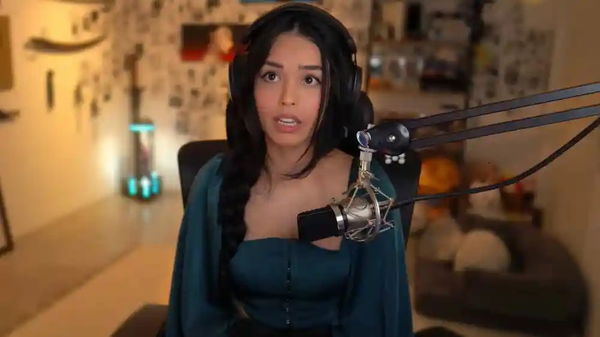 Rachell "Valkyrae" Hofstetter is the most successful female streamer on YouTube with over 3.82 million subscribers, earning her the title, "Queen of YouTube." Aside from streaming, she also has ventures like co-owning the Esports organization 100 Thieves. Due to this success, Valkyrae has a $4 million net worth, meaning she can buy whatever her heart desires.
This 31-year-old stunned everyone a few months ago by purchasing a Lamborghini Urus, one of the world's top SUVs. She has also used her wealth to provide for her family, such as sponsoring her younger sister's wedding and building a home for her mother in the Philippines. Despite having such a fortune, Valkyrae once had to steal from a marketplace, which resulted in her being banned.
Valkyrae stole from a store, leading to her ban
ADVERTISEMENT
Article continues below this ad
The 31-year-old recently live-streamed Valorant with fellow streamers like Noah "Foolish" Brown and Nathan "Blaustoise" Blau. Everyone on that live stream was astonished when Valkyrae revealed that she had been banned from a marketplace when she was just ten years old.
Valkyrae then revealed why this incident occurred, which surprised "Foolish" and "Blaustoise" more than her being banned from a marketplace. "I stole a pair of sunglasses and got caught," she admitted. Both the Twitch streamers then wanted to know why Valkyrae had to steal sunglasses.
ADVERTISEMENT
Article continues below this ad
"I was trying to fit in with the cool tennis captain, whose name was also Rachel and she did it. I don't even wear sunglasses because my nose is too small anyways to hold them up. But I wanted to be part of the cool captains." Hofstetter continued, "Then we got caught and then I had to go to court for it. Then I was banned from the store."
Blau then asked her why she didn't simply run away from the scene. However, the 'YouTube Queen' admitted to being a coward. So, Blau jokingly said then she should have fled the country as if she had committed a serious crime. A young Valkyrae undoubtedly had to pay a high price to join the "cool kid gang."
ADVERTISEMENT
Article continues below this ad
WATCH THIS STORY: The Most Followed Female Streamers on Twitch
Did you ever imagine this $4 million YouTuber streamer stealing something in her past? Leave your thoughts in the comments section below.
Edited By: Vineet Nandwana