"I Was a Little Taken Aback"- Says Ashley Johnson From 'The Last of Us' on Seeing Bella Ramsey for the Role of Ellie
Published 03/14/2023, 2:24 PM EDT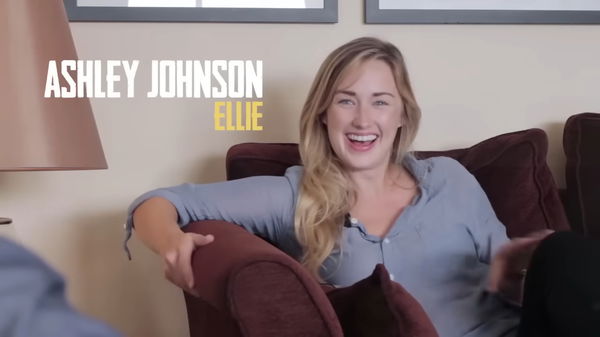 In the post-episode podcast, the original actress behind the character of Ellie in the Last of Us game, Ashley Johnson, shared her opinions on the television variant of the character, Bella Ramsey. According to Johnson, no actor "ever felt right until Bella" for playing the character of Ellie on the big screen. 
Developed by the Naughty Dog Studios, the original Last of Us games featured Troy Baker and Ashley Johnson in the lead roles of Joel and Ellie, who were later succeeded by Pedro Pascal and Bella Ramsey. Though Troy and Ashley didn't have "any say" on the selection process, they were more than glad that Bella was chosen to take the mantle of Ellie. 
Ashley Johnson shares why she was "Taken Aback" by Bella Ramsey on the sets of Last of Us
ADVERTISEMENT
Article continues below this ad
HBO's The Last of Us television adaptation featured the original creator of the series, Neil Druckmann, as a co-producer along with some of the original cast members. This included Troy Baker, Jeffrey Pierce, and Ashley Johnson. Ashley made her show debut (episode 9) way later than Troy and Jeffrey. 
After the premiere of the last episode, HBO invited Johnson to the 'Last of Us podcast', hosted by Troy Baker. In the show, Baker asked Ashley what she thinks about Bella taking on her former role as Ellie. "There is something so similar that we have that instantly when I met Bella, there was this feeling of wanting to protect them," said Ashley. 
ADVERTISEMENT
Article continues below this ad
"First time I met Bella, I was taken a little aback because it felt like I was meeting the real Ellie. Like the character coming out of the game.", continued Johnson. "There is a little bit of it where Bella kind of feels like my kid. And we have very similar mannerisms and she gets it. I was so blown away by her performance." 
Despite witnessing the young actress do a phenomenal performance in the shoes of her former character, there is no harsh feeling from Ashley to Bella. In reality, Johnson wants Bella to "also have ownership of the character too." because according to Ashley, Bella IS Ellie. 
ADVERTISEMENT
Article continues below this ad
WATCH THIS STORY: Top 10 changes in the Last of Us Remake
What do you think about Bella's performance as Ellie? Who do you think did the best portrayal of the character? Let us know in the comments below!
Edited By: Debmallya Chakraborty