"INCREDIBLE!" – Fan-Made Fortnite Movie Trailer Steals the Entire Fanbase's Heart on Twitter
Published 12/31/2022, 6:15 AM EST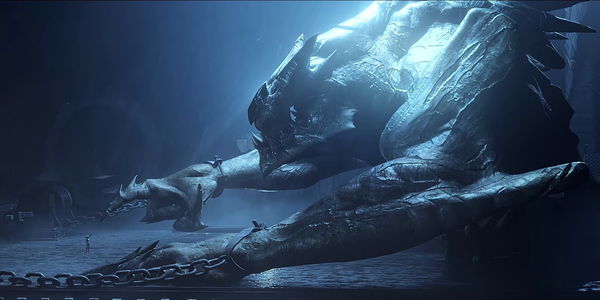 Gamers can sometimes blow up the minds of the gaming community with their creativity. Some fan-made creations are no less than any artistic masterpiece. Recently, a Fortnite fan came up with an amazing creation that has blown the heads of other fans.
Fortnite is a battle royale game developed by 'Epic Games'. It is a shooter game, so people won't usually think that there can be any creativity in this game. However, a fan has proven that one can also express their creativity in a battle royale game.
A fan-made Fortnite movie trailer is stunning
ADVERTISEMENT
Article continues below this ad
A Twitter user named Feraals recently shared a video, which is blowing the minds of Fortnite fans. The video he created is actually a cinematic trailer. Feraals used cinematic shots using scenes he created himself. He is a VFX artist, so creating such animated scenes might not be that hard for him, but they certainly will take a lot of time to make.
Feraals also has a YouTube channel under the name FeraalsVFX. He uploads various other trailers on his channel. The VFX artist has a 100,000-strong loyal subscriber base that loves watching his cinematic trailers.
In this Twitter video, Feraals uses clips from Season 9 of this battle royale game. So a lot of scenes where The Devourer was rampaging on the island have been included. For those who are new to Fortnite, Devourer was the main antagonist in Season 9. Furthermore, we can see massive mechas fighting against that rampaging beast.
The cinematic trailer was so excellent that anybody would think that it was for an original Fortnite movie. The creator also added dramatic music to it, which made the fan-made movie trailer be more appealing.
How did fans react to this fan-made trailer?
Fans were amazed to see this fan-made Fortnite movie trailer. Some couldn't believe how amazing that fan-made trailer for the 2017 battle royale game was. Others couldn't help but appreciate the trailer. It got an incredible reaction from fans who couldn't help themselves from praising the trailer and the creator. Here are some of the reactions from fans.
I think you should raise some money to literally make a fortnite short movie, you would kill it.

— Happy Power (@HappyPower) December 29, 2022
Epic!💫 As Always! Great work! 🎬Looks Amazing!

— MamaLlama007 (@MobileMamaLlama) December 30, 2022
your editing skills combined with your animation skills are unmatched!

Love your color corrections btw, really makes it look so good

— Fevers (@FeversGFX) December 29, 2022
ADVERTISEMENT
Article continues below this ad
Bro since epic still hasn't made a fortnite movie you should make a lore accurate trailer… Just an idea.

— OP Gam3R (@OPGam3R02) December 30, 2022
ADVERTISEMENT
Article continues below this ad
What are your thoughts about this fan-made Fortnite movie trailer? Do share in the comments below.
WATCH THIS STORY: Fan Favorite Streamer xQc Is Now a Santa Who Came Bearing 'Expensive Gifts' for His Beloved Fans
Edited By: Shibu Immanuel