"Is This Even Legal To Post on Twitter?"- MrBeast's Request for Aesthetically Displaying Feastables Worries Fans As the Idea Takes an Unforeseen Turn
Published 03/06/2023, 12:30 PM EST

Follow Us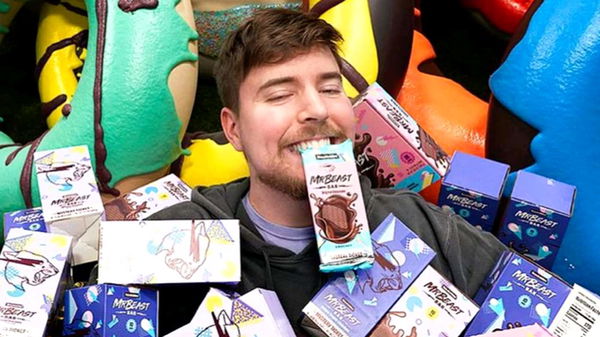 Jimmy Donaldson has become one of the most familiar names in most households. From elders to children alike, the brand MrBeast is quite popular. He not only makes attention-grabbing content but also is a masterful entrepreneur as well. But, sometimes the actions of his fans may seem extreme in some ways. That is exactly what happened when Jimmy made a small request about Feastables to his fandom.
MrBeast's Walmart request went overboard among fans
Jimmy Donaldson's MrBeast franchise is doing wonders among its audience. His videos are garnering millions of likes, while the Feastables products are adored by people. His plans to expand the latter seem to be fruitful, especially following its increased consumer base.
ADVERTISEMENT
Article continues below this ad
In 2022, he announced that Walmart, the popular retail chain, would have Feastables products available. Following this, recently Jimmy also requested his fans to clean up the presentations of the products.
I need your help! Next time you see Feastables in Walmart (and soon to be new retailers) if you could clean up the presentation and make it look better that'd make me very happy 🥺

I'm building a team to do this routinely, just need help in the short term ❤️ pic.twitter.com/CzYqOqQvta

— MrBeast (@MrBeast) March 3, 2023
He wants the Feastables to be arranged in a clean manner. Respecting this request, many appreciated Jimmy's concern towards his products. Few of them even took to social media to show how they have managed to achieve what Jimmy asked for.
But what none expected was people converting this very idea into something sinister. Of course, most people are just doing it for the meme and as a joke, but it seems like things are taking an evil turn. Apparently many were seen posting pictures that portrayed how people who messed up MrBeast Feastables display were punished.
Some were posting snippets from video games, stating that they were torturing the person who ruined one of the Feastables displays. Though Jimmy found this one funny and commented with a hilarious reply, the same was not the case for some posts.
There were posts that went overboard. One such post was about suffocating a person because they bumped into a Feastables display. Not only the picture was deemed insensitive, but there were also many who were finding this rather funny.
.@MrBeast I caught this man after he bumped into a Feastables display at Walmart. I am slowly poisoning him with gas and he is begging for his life. Shall I finish him off sir? pic.twitter.com/8xFM9Eibtq

— adult human shemale (@boygrrI) March 5, 2023
The gas is actually from the fryers at mr beast burger

— AdequateEmily (@AdequateEmily) March 5, 2023
Thank you for doing this for such a kind person as Mr Beast. His enemies are humanity's enemies and must be punished.
(My cash app is $owowjdnfm) @MrBeast please send me money ty

— Derned (@Derndeep) March 5, 2023
ADVERTISEMENT
Article continues below this ad
Though it's all for the meme, it seems things are going a bit overboard considering the current situation. Likely more such posts may pop up on the internet. MrBeast has not yet responded to such extreme posts that are currently going viral on the internet.
Is this even legal to post on twitter?

— Jonathan Hernandez (@JonHernandeznyc) March 5, 2023
ADVERTISEMENT
Article continues below this ad
The internet sensation is currently busy gearing up for his next video, which has been teased quite often through his social media posts. Likely more updates on that would arrive shortly for the Beast fam.
Watch this Story: MrBeast Amazes Many Top Stars after Achieving 100 Million Subscribers