IShowSpeed's Ridiculous Fourth of July Firework Stunt Now Has a Minecraft Version
Published 07/07/2022, 10:10 AM EDT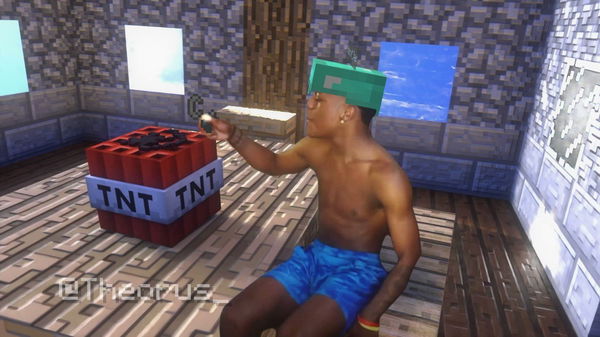 Darren Watkins Jr, famously known as IShowSpeed or Speed, went viral after lighting a firework on his Fourth of July live stream. Further, fans came up with various memes on the incident, but the most popular one was when someone recreated the moment in Minecraft.
ADVERTISEMENT
Article continues below this ad
The 17-year-old got a Pikachu-looking firecracker to celebrate Independence Day. However, the young YouTuber thought it was a moderate sprinkler. He said, "I got a lot of fireworks right now. Let's light the Pikachu one, ya'll. I don't think it's gonna be that loud, personally." Moreover, he burned the cracker on a box of fireworks. Fortunately, other fireworks didn't catch any fire.
ADVERTISEMENT
Article continues below this ad
The American streamer was shouting and jumping throughout the room. Speed even said, "I didn't know, I didn't know, I thought it was the popping ones, ma." Meanwhile, fans were watching this celebration fiasco on the stream. The fans had previously asked Speed to light the firecracker outside, but those warnings couldn't reach him.
The situation got controlled after the American streamer threw it down. Otherwise, this hilarious fiasco could have severely damaged Speed or his house. The stream eventually ended with a fireman coming to check the hazardous situation.
IShowSpeed's firework fiasco recreated on Minecraft
The 17-year-old's hazardous firework incident turned into a viral meme. Fans came up with various versions of the incident. Those memes were hilarious, but a Minecraft version undoubtedly took the top spot.
ADVERTISEMENT
Article continues below this ad
An animator recreated the moment in Minecraft. So, the animator replaced the room background from the original stream with a setup similar to the Minecraft world. Instead of the Pikachu bomb, there was a Minecraft TNT bomb. It was hilarious to watch the young Youtuber screaming and jumping around in the video game world while TNT was about to explode.
This Minecraft edition of the IShowspeed's failed July 4 celebration even caught the attention of many famous streamers. The Twitch star Félix "xQc" Lengyel recently watched the meme during his live stream, laughing throughout the video.
ADVERTISEMENT
Article continues below this ad
WATCH THIS STORY: From Minecraft to Halo, ranking YouTube star MrBeast's Favorite Video Games
The meme was undoubtedly hilarious. But Speed should be careful not to pull off such stunts again. So must we when dealing with firecrackers.