"It Was the Biggest Crash I Ever Had"- Shroud's Twitch Chat Freshen Up Bad Memories for the McLaren F1 Driver Lando Norris During Latest Livestream
Published 12/08/2022, 2:42 PM EST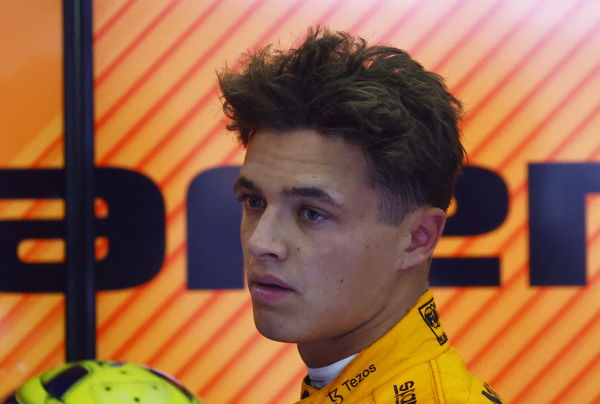 The Formula One driver Lando Norris recently collaborated with the eSports professional and streamer Michael "Shroud" Grzesiek in a recent livestream. The F1 driver was there to help the streamer get better at racing simulation games. But Shroud's chat freshened up some wounds for Lando Norris during the livestream.
Lando Norris is a Formula One prodigy who drives for the English team, McLaren. Despite his young age, Norris has showcased his incredible talent on the grid against veterans. But that doesn't mean he always made the perfect choices, as some of them cost him some good results. One such great example was the 2021 Russian Grand Prix.
ADVERTISEMENT
Article continues below this ad
Shroud hosted Lando Norris on his Twitch channel to play Assetto Corsa Competizione. After all, the FPS pro isn't good at racing simulators, so who could be better to teach you than a professional F1 driver? Further, Shroud was planning to set a good record at the G Challenge hosted by Logitech and McLaren.
Lando Norris remembers his 2021 Sochi incident after Shroud's chat spams it
But after playing the video game for a while, Shroud decided to have a little conversation with the young Norris. While interacting with the McLaren prodigy, the Candian streamer questioned if Lando ever made any "bad threw ups" on track. Lando agreed that he did make such mistakes but then Shroud informed his chat is spamming the "PepeLaugh" emoji and "Sochi".
ADVERTISEMENT
Article continues below this ad
Lando laughed after hearing Grzesiek's chat spamming PepeLaugh and Sochi, so he claimed, "Yeah, that was a bad moment. 'Pepelaugh.' If we could give them a 'PepeSmack' into it." T
Then Shroud also brought up Norris's risky crash from Belgian Grand Prix 2021.
Norris explained, "Yeah, Spa was just a big crash that I had. Sochi was just being the wrong call, with the tires. It started to rain and I said, 'I don't want to go on slow, stay on dry tires.' And yeah, that wasn't so good. But Spa was just a big crash there. Too much water. I tried to go too quick, and yeah. It was the biggest crash I ever had."
ADVERTISEMENT
Article continues below this ad
WATCH THIS STORY: Highest Cash Giveaways in YouTube Star MrBeast's Videos
Undoubtedly, these are events that Lando would have liked to erase from his memories. But Shroud's chat didn't let him and freshened up those wounds.