JoshOG and his Team Edge Out Ninja's Squad in Call of Duty Event
Published 04/02/2020, 2:22 PM EDT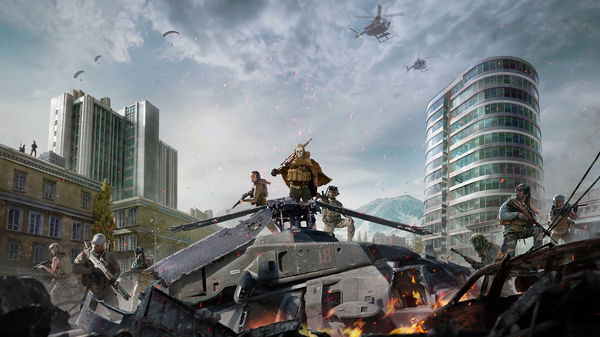 On Wednesday, JoshOG and a star-studded Call of Duty squad squared off against Ninja and his team for the Warzone crown. After a close battle, JoshOG and his teammates walked away with the $20k top prize for the second week in a row.
ADVERTISEMENT
Article continues below this ad
Since its release, Warzone became a massive success among gamers. The popularity skyrocketed to a stage where millions clocked in the hours into the video game. Even better, several superstars and influencers from around the gaming world flocked to the Battle Royale.
Additionally, video blogger KEEMSTAR put together a weekly tournament series called Warzone Wednesday. This tournament features several gaming and content creation giants.
ADVERTISEMENT
Article continues below this ad
What happened in week 2 of the Call of Duty tournament?
For consecutive weekends, JoshOG and teammates, HusKerrs, and Diegosaurs emerged victorious in Warzone Wednesday. The trio recorded a 91–76 victory over Ninja and his squad in the final. However, the competition was so intense that neither side gave a quarter until the final game.
ADVERTISEMENT
Article continues below this ad
Ninja's team started off strong and as the early favourites, which lasted until they reached the Gulag. The American influencer and his partners got demolished in that section. This included a heart-breaking loss during the shotgun round. This left Ninja and his allies on 75 kills, while JoshOG's squad stormed to 91 kills.
The bad news was that tournament became mired in controversy. The fourth-placed Vikkstar123, ProSyndicate, and Itz_WarZ team lost in the semis, owing to Call of Duty:Warzone hackers.
KEEMSTAR wrote on Twitter, "Hackers have taken over Warzone. Unfortunately, we don't have the manpower to investigate each case when a player is killed by a hacker. So we can't grant those teams a restart. COD needs to fix this or Warzone will die in a week."
ADVERTISEMENT
Article continues below this ad
On the bright side, the tourney delivered a nail-biting final between JoshOG and Ninja. With this victory, JoshOG is on course for a three-peat if they compete in KEEMSTAR's event again next week.
KEEMSTAR normally broadcasts the tournament live every week from his official Twitch channel. Furthermore, participants also stream the game from their own personal channels for their subscribers.