Latest Update on Destiny 2 Angers PlayStation 4 Fans Ahead of Massive Expansion – "Utter Embarrassment to Gaming"
Published 02/22/2022, 12:56 PM EST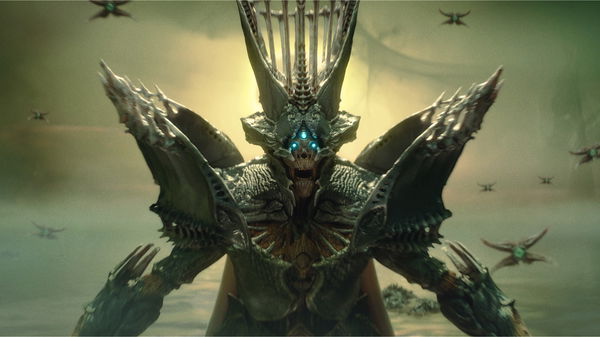 It's a pretty big day for Destiny 2 fans as 'The Witch Queen' expansion is finally here. Now players start counting down the hours until the ultimate official release. However, unfortunately, there is some bad news. PlayStation 4 players hoping to pre-load 'The Witch Queen's content are out of luck as due to some issues, the PS4 content is not yet available for download.
PS4 players are unavailable to pre-load the Destiny 2 Witch Queen
ADVERTISEMENT
Article continues below this ad
According to the official tweet, a technical issue has prevented the expansion from going live today for PS4 owners. And now it will be available tomorrow (February 23, 2022). This means, if you want to play The Witch Queen expansion on the last-gen console, you have to wait until tomorrow when the entire update 4.0.0.1 goes live. However, after this, you will be able to begin the download process only, let alone play it directly.
Due to an unforeseen issue, PS4 Required Content is not yet available for download. Players using the PS4 version of Destiny 2 can download these files at 9 AM PST tomorrow when Update 4.0.0.1 becomes available.

All Required Content is ~72 GB total.

Stay tuned for updates.

— Bungie Help (@BungieHelp) February 22, 2022
This is obviously a pretty big turn-off for PS4 fans. Players have been waiting for the expansion for a long time and now not being able to pre-download it just like other players is definitely frustrating. As expected, players are absolutely disappointed with Bungie at this point.
Let's have a look at what fans have to say about his unfortunate news.
After copying PS4 plays should be able to play the Witch Queen sometime in May lol

— KackisHD (@RickKackis) February 22, 2022
That's it. That seals the deal. I am no longer a Destiny fan. This game is pure and utter embarrassment to gaming. I officially will not be renewing my season pass, nor will I ever buy any DLCs. I'm going to Epic Games Launcher where they know how to run a F2P videogame.

— Seba🦅 (@Cottrillista) February 22, 2022
WATCH THIS STORY: Video Game Franchises returning to console
You gotta do something to rectify this for the ps4 community. An emblem? Silver? Something. I'm ps5 so i'm good but i really feel for my friends and others who are having such a disheartened time because of this. Many people took time off work for this

— Tygersbyte (@TygersByte) February 22, 2022
A true turnoff for players
Seriously?!? 🤦🏻‍♂️
I've been rooting for you and defending you through the hiccups.
But frankly, being screwed like this has me a bit pissed that this wasn't sorted out before now.

— Duckman (@_Duckman_) February 22, 2022
Highly disappointed!
Thanks for making me stay up for nothing smh.. In return We want a PlayStation exclusive emblem..

— Dyland Haydon (@FrontoXPronto) February 22, 2022
Epic fail!
Ay bungie dont piss me off wtf is this. Literally partnered with PlayStation but we get bumped. 70gb is the whole game might and it comes out at reset. Compensate us at least man come on

— Dion Reci (@DionReci1) February 22, 2022
ADVERTISEMENT
Article continues below this ad
Destiny 2 regularly receives new content as weapons, characters, challenges, or even skin for that matter. However, the next big expansion that is making its way to Destiny 2 soon is The Witch Queen. Interestingly, The Witch Queen isn't just a regular expansion as you might think. The expansion also reworks some fairly important parts of the title, making a much better gaming experience for players.
The Witch Queen expansion is all set to get launched in Destiny 2 at 5 PM GMT/12 PM ET/9 AM PT.
Are you excited about the upcoming big expansion in Destiny 2 after such a long time? Also, what's your take on the PSY version issue? Let us know in the comment section below.
ADVERTISEMENT
Article continues below this ad