Latest Warzone Update Does Little For Fans as They Continue to Express Frustration
Published 12/20/2021, 1:44 PM EST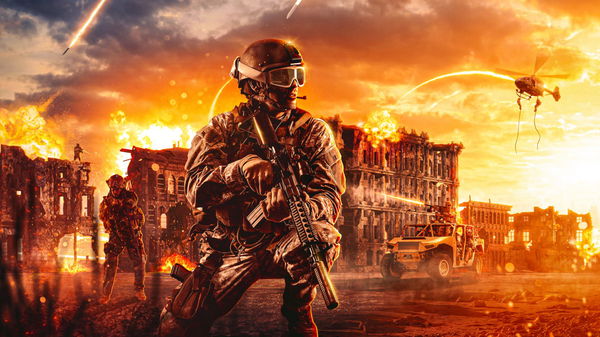 ---
---
The latest weekly patch update for Call of Duty: Warzone has gone live, bringing a slew of changes in the game. Yet again, players are not happy with the fixes as they continue to express their annoyance on different social media platforms. The update fixes some of the most crucial issues of the game, such as some fixes in Festive Fervor Event challenges, weapon adjustments, and many more.
ADVERTISEMENT
Article continues below this ad
Among the major fixes is the removal of an issue that allows players to exploit/peek/shoot various elements across the new Caldera map, giving them an unfair advantage over the enemies. Another major fix will also prevent players from duplicating their weapons, giving them an upper hand in the game.
ADVERTISEMENT
Article continues below this ad
Bug fixes and changes in Warzone
Some of the major bug fixes are:
Fixed an issue where players were not able to track their progress on the Festive event challenges, causing a lot of confusion among gamers.
Fixed the recoil issue of EM2.
Fixed all the incorrect pricing on some of the store bundles.
WATCH THIS STORY: Why is GTA San Andreas so Good?
According to the official patch note, changes in the weapon section are;
"Vanguard Attachments can completely alter the behavior of a Weapon—including its Damage profile, Fire Rate, and Recoil. When we make these adjustments, we are considering the Weapon holistically, in all its permutations. Our goal is for these Weapons to be just as viable with one of these Attachments as it can be with all of them. This allows the Weapons to support all sorts of playstyles and gameplay preferences rather than solely 'Rapid Fire'."
Let's have a look at some of the reactions to this latest update from Twitter.
He tested it on a PC. Big difference. Consoles just cant handle 120 FOV on a big map, at least not in CoD. Thats why it is on Vanguard MP and its not on Warzone. Do you really think they wouldnt add it if it is possible? pic.twitter.com/tesfKH8UNe

— Juancho (@Juancito82) December 19, 2021
ADVERTISEMENT
Article continues below this ad
Dead silence literally changes fov so this doesn't make alot of sense. VG has fov and yet it was made off off the mw engine so this doesn't make sense either. If they can have fov and (atleast for me) decent frames why would it be harder to do for wz? Doesn't make sense 🤨

— Rea ・ぃ易 (@lord_dicc) December 19, 2021
Fans' reaction to the latest update can best be described as "lukewarm" as they don't seem satisfied with the changes that the franchise is bringing in. What do you think about this latest patch note? What other changes would you like to see in the game? Let us know in the comment section below.
ADVERTISEMENT
Article continues below this ad