"Lets Be Real, Conor Would Kill KSI": The Internet Goes Insane After Conor McGregor X KSI Fight Is Demanded by the Latter's Fans
Published 12/26/2022, 1:05 PM EST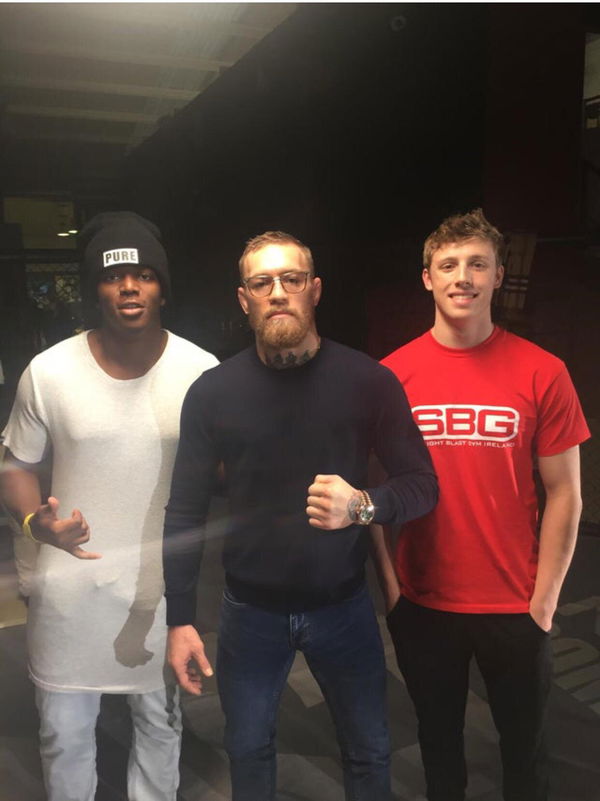 Conor McGregor is one of the most popular entities in the UFC. The 34-year-old star has been a central stone of news and rumors for a long time. He is the first individual to hold both UFC Championships in two different categories.
KSI on the other hand, is an internet celebrity and a rapper who turned to Boxing in 2017. JJ has had a great streak till now in his boxing career, where he is yet to face a defeat. While he is set to face Dillon Danis in 2023, some fans have taken the initiative to compare him with McGregor.
Conor McGregor VS KSI
ADVERTISEMENT
Article continues below this ad
The fame of KSI as a boxer is rising day by day. He has shown his prowess in sports within a short span of time. And also by defeating most of the opponents he faced. Now, the British internet sensation is being compared to the 'Notorious' Conor McGregor.
The fans of KSI have taken it to Reddit to compare JJ with McGregor. And also claiming that the internet sensation can beat the 'Notorious' MMA star. This comparison has sparked a huge debate among the internet community. Especially between KSI and Conor McGregor fans.
JJ's fans seem to strongly believe that their idol can easily defeat McGregor if they ever face each other.
Even though there were a few supporting KSI, the subreddit was filled with opinions about how McGregor would dominate KSI in a fight. Moreover, many people believe that if a bout happens, it would end the career of KSI as a boxer.
Moreover, Conor McGregor does not appreciate the type of boxing KSI does. So the chances of him stepping into the ring with JJ is near to impossible. The Notorious took to his Twitter handle to express his views about the genre of boxing that people like KSI and Logan Paul do.
Brother you're a friendly little nerd I don't care. He should be back doing mma if he is doing this little nothing burger match with you. I couldn't care less about this genre of boxing, I am sorry. Have a good one. https://t.co/4qNs85OmGd

— Conor McGregor (@TheNotoriousMMA) December 22, 2022
This was ahead of the Dillon Danis x KSI fight. KSI was mentioning this to McGregor because Danis is a close confidante and friend of Conor.
ADVERTISEMENT
Article continues below this ad
Even though KSI fans are hyped for something like this to happen, chances are it might not. Though, if it does, it would garner much attention and popularity.
But for now, the only time fans can see McGregor facing KSI is from a video from 6 years ago, where both of them faced each other in a UFC game. In Which Conor beat JJ 2-1.
ADVERTISEMENT
Article continues below this ad
Do you guys want to see a fight between the professional MMA fighter and the Internet sensation? Do mention them as comments below.
Watch this Story: What did Floyd Mayweather say about Conor McGregor rematch
Edited By: Debmallya Chakraborty