Ludwig, Karl Jacobs, Jacksepticeye And Other Notable Names Reacts To Sykkuno Meeting Corpse
Published 03/26/2021, 12:36 PM EDT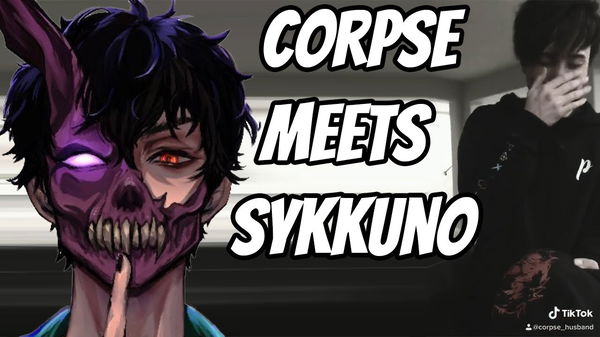 ---
---
The inevitable has happened. Long time online friends and streamer duo Sykkuno and Corpse Husband has finally met in real life. As they rejoice over their meeting, several notable names from the Esports industry spoke their minds about the moment.
ADVERTISEMENT
Article continues below this ad
Sykkuno and Corpse Husband are popular in their own rights. They rose to popularity over the last year. While Sykkuno has been rising among his peers, Corpse's identity has remained a mystery throughout.
Streamers react to Corpse meeting Sykkuno
ADVERTISEMENT
Article continues below this ad
Several notable streamers expressed their thoughts and feelings on the subject. While the likes of Ludwig reacted to the TikTok video live on stream, others took to Twitter to express their views.
This is stupid I hate this I'm so pissed screw this i got dibs on meeting both of you next or else I'm gonna be so pissed I'm so@mad hdkajfkhsmdbsm

— karl 🙂 (@KarlJacobs_) March 24, 2021
If there's a more wholesome thing on the internet today, it'll have to do a lot to top this moment.

— Twitch (@Twitch) March 24, 2021
okay this makes me smile so cute 🥺

— QuarterJade (@QuarterJade) March 24, 2021
For the first time ever sykkuno I actually have beef with you I wanna meet you 2 so bad >:T

— karl 🙂 (@KarlJacobs_) March 24, 2021
Ludwig reacts to the segment
While many made their remarks, Ludwig's reaction clearly stood out from the log. The streamer was up to his usual antics to describe their meeting.

"Ladies and Gentlemen, Journalist Ludwig returning to scene to let you know breaking news. Corpse Husband posted a video on TikTok of him meeting Sykkuno for the first time in person by handing him a hoodie. Sykkuno likely will put his hand over his mouth and giggle very cutely. Classic Sykkuno. He's so cute," Ludwig said on his stream.
As the streamer continues what seems to be the final phase of his subathon, fans may get to hear more from Ludwig once it ends.
The background story
Sykkuno met Corpse while playing the popular multiplayer, Among Us, online. They continued their friendship but never met. Meanwhile, Corpse entered the music industry, having worked on a recent album with Machine Gun Kelly.
Sykkuno tried getting his hands on Corpse's hoodie from the official merchandise, but it ended in vain. Following this, Corpse promised to hand deliver the merch to his friend, and he did so in style.
ADVERTISEMENT
Article continues below this ad
Sykkuno then shared the story of meeting his friend live on stream.
"Honestly guys, I was really worried when I first met him. I wasn't sure if he liked me that much. I'm probably still gonna feel like that but I feel like we're friends probably right. I think we have to be," Sykkuno said.
The streamer refrained from revealing any personal details or descriptions of Corpse. Although Sykkuno teased the fans to share details, he ended up saying Corpse is a really good friend.
ADVERTISEMENT
Article continues below this ad
That leaves the entire fanbase in the same loop as before. The identity of Corpse still remains a mystery, but at least the two friends made a remarkable memory.