Madden Fans Pay Fitting Tribute to NFL Pioneer John Madden Following His Death
Published 12/29/2021, 6:14 AM EST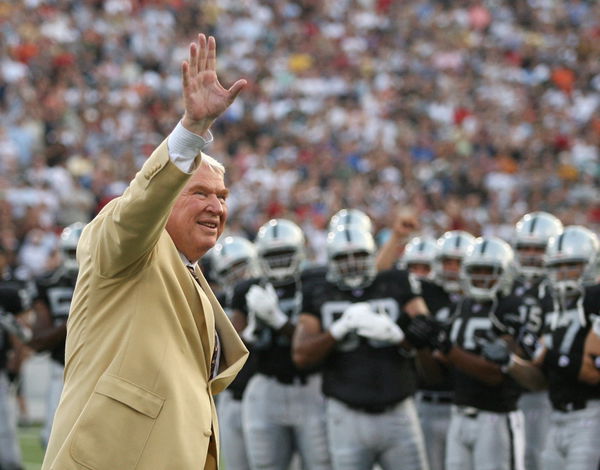 The NFL legend John Madden passed away today at the age of 85. EA Sports' Madden video game fans and streamers can hardly contain their grief.
John Earn Madden, a sportscaster and the former head coach of the Oakland Raiders, died on 28 December 2021. NFL commissioner Roger Goodell confirmed Madden's death.
Oakland never suffered a loss, in terms of season losses, under Madden's guidance. This earned him his share of popularity among American football fans.
ADVERTISEMENT
Article continues below this ad
Other than coaching, he was renowned for his remarkable commentary on the game. He officially retired in 1978 from coaching. Madden's fear of flying was one of the main contributors to his retirement.
Video game fans and streamers shook by the news
The Madden video game made John Madden famous in the video gaming world as well.
TimTheTatman aka Timothy John Betar conveyed his grief via a tweet today.
we lost a football legend today…

rip john madden

— timthetatman👑 (@timthetatman) December 29, 2021
Matthew Haag, better known as Nadeshot, the CEO of 100 Thieves, thanked the football legend for his contribution to the sports community while mourning Madden's death on Twitter.
Madden '04 top 10 video game all time.

We lost a legend today. Thank you for all that you did for the world of sports.

Rest In Peace, John Madden. pic.twitter.com/PocXIeX8bL

— 100T Nadeshot (@Nadeshot) December 29, 2021
The sports world, including numerous video game fans, seems to be shaken by this unfortunate news.
Some fans talked about their favorite game, Madden, and how they wanted the American football pioneer on the cover of the Madden 23.
I was thinking the same thing. Skip the cover athlete & put John Madden on it. There could still be multiple editions with the top one being Madden 23 HOF Coach Madden edition. You could get a John Madden MUT coaches card that could give you +1 stat boost to all your cards 🤔

— 🎉🎆jawandrew2🎆🎉 (@MUTMaddenGamer) December 29, 2021
Thus, another fan made it happen.
There are several fans who were inspired by the franchise to get into the game.
Twitch tweeted about this unfortunate incident as well.
In addition, NFL commissioner Roger Goodell said, "Nobody loved football more than Coach," he added, "He was football. He was an incredible sounding board to me and so many others."
There will never be another John Madden, and we will forever be indebted to him for all he did to make football and the NFL what it is today."
Madden, John Madden's video game series
ADVERTISEMENT
Article continues below this ad
John Madden's fan following wasn't limited to the boundaries of American football. Needless to say, he was famous among video game players too. He is the one after whom the EA Sports iconic Madden NFL series of video games is termed.
Madden was into the idea of computer games and felt it to be an avenue to utilize as coaching equipment. Thus, when Electronic Arts approached him, he didn't turn it down.
ADVERTISEMENT
Article continues below this ad
The legend even insisted on some modifications. He asserted that each team must have 11 players. Given the time, it was outlandish to achieve that. Hence, it took 3 years to develop the game. However, when the game came out, it was a huge success.
John Madden was one of the most popular and revered individuals in all of NFL, and his loss will live on the memories of the athletes as well as the fans.