Megan Thee Stallion and BTS' Stunning Grammy's Photo Catches Pokimane's Attention
Published 04/05/2022, 2:21 AM EDT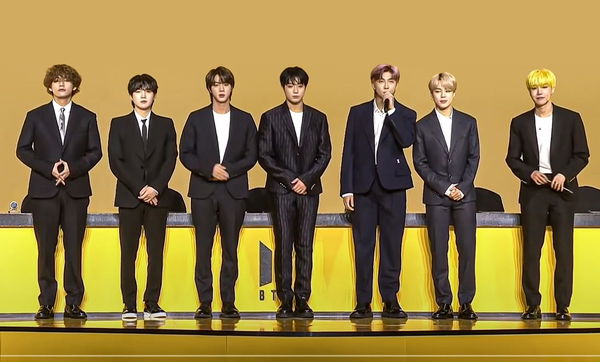 If we try digging up a few past tweets, Pokimane does love the Bangtan boys from South Korea. BTS has phenomenally risen over the past decade and right now, their music is something that has captivated the world in a similar fever-like Michael Jackson had done in the 80s.
Pokimane is also one of those people who could not escape the fever for BTS and has even attended their concerts with iGumdrop. During the Grammy Awards show this year, MeganTheeStallion posted a picture with the BTS boys and this seems to have caught Poki's attention.
ADVERTISEMENT
Article continues below this ad
Pokimane is still as much a BTS fan as she used to be
While Pokimane might not post much about BTS in the past couple of months, this does not mean that her craze for this boy band has subsided anyhow. In the above picture, we can see HipHop queen MeganTheeStallion posing glamorously with the BTS boys. One of the persons to have liked this image was none other than Poki herself.
Just last year November, Pokimane had attended a concert of the band with her streamer friend Jaime 'iGumdrop' and posted updates about the same on Twitter. She had tweeted, "seeing bts live was…insane…"
The next tweet in the thread included the boys themselves performing.
Poki had also posted a story on her Instagram which had the caption "There are two types of people at a BTS concert." In that picture, we can notice Jaime dancing to the tunes of BTS songs while Poki was enjoying her bowl of noodles. However, in another story, Poki was also dancing to the tunes of BTS as well. Seems like nobody can escape the bandwagon of their music!
ADVERTISEMENT
Article continues below this ad
In other news, Pokimane has just reached 9 million followers on Twitch. While Pokimane was streaming LIVE on her channel, a donation appeared that informed her that she had just reached 9 million followers. In fact, she is the first woman ever to achieve this feat which is indeed a huge deal. She has thanked her followers through the Tweet below.
ADVERTISEMENT
Article continues below this ad
What do you think of these latest updates from Pokimane? Let us know in the comments.
WATCH THIS STORY –  Toughest Video Game Bosses of all time
Edited By: Niranjan Deodhar