Microsoft CEO- 'Flight Simulator Brings Together the Power of Our Technology'
Published 08/19/2020, 7:19 AM EDT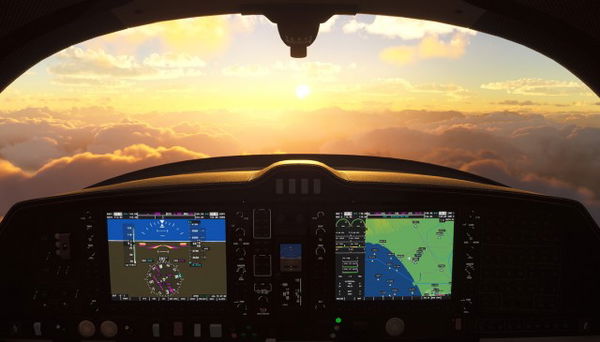 ---
---
Microsoft launched Flight Simulator X 14 years ago and as unbelievable as it sounds, it looked like the last title in the series. However, Microsoft announced the revival of the franchise last year.
ADVERTISEMENT
Article continues below this ad
This created a razzmatazz, as even those who had no previous knowledge of it were interested to see what was on offer after catching a glimpse of the trailer.
Microsoft Flight Simulator is now available on Xbox Game Pass for PC, Windows 10 PC, and Steam. Microsoft has announced a free "Aviators Club" livery on the return of the franchise. This will be available starting on the 19th of this month.
ADVERTISEMENT
Article continues below this ad
Microsoft: An Exciting Day for Asobo Studios and Microsoft
This partnership between the two companies began years ago with the demo of Machu Picchu in augmented reality for the Microsoft HoloLens.
It's been a historic moment for both companies as they have joined hands for the franchise's relaunch following a 38-year-long gap. With the advancement of technology, a range of activities has now become possible.
Microsoft has allied with Azure AI's cloud technology and Bing Maps to stream more than 2PB of data. This relationship will bolster their effort in terms of accuracy, realism, and authenticity like never before.
Microsoft Flight Simulator brings together the power of our technology – from Azure and Bing Maps to Xbox Game Pass – so you can visit the places you love and dream of exploring – no actual travel required. https://t.co/hydqaMWUDg

— Satya Nadella (@satyanadella) August 18, 2020
Flair of Realism
You can witness the changes when you catch a glimpse of the trailer. The scenery includes a mix of cities that have been crafted with photographic realism. These feel alive. Something as trivial as houses lighting up at night shows how much elbow grease has gone into this venture.
This hasn't just been achieved through the implication of technology. In addition to the proper application of technology, experts from the field have been quintessential in helping the franchise reach an astounding level of authenticity. The team sought help from pilots and engineers to get an idea of where they were lacking.
The growth has been based on a process of constant feedback from mechanics. A wide array of aircraft have been added to the list. These include single-engine piston aircraft to long-range turboprops, business jets, and airliners.
The multiplayer system will allow friends to travel together. Well, this will come in pretty handy as COVID has crippled all our travel plans.
Improved aerodynamics has to be the finest touch provided by Microsoft in cooperation with other third-party companies. The weather has an almost palpable effect on the aircraft in the flight.
ADVERTISEMENT
Article continues below this ad
As a result, you will be able to feel the turbulence in bad weather conditions.
 Microsoft offers Standard, Deluxe and Premium Editions
The Standard Edition starts at $59.99. While the Deluxe Edition includes more planes and hand-crafted airports, it costs $89.99 and the Premium version costs $119.99.
ADVERTISEMENT
Article continues below this ad
This is just the beginning of better things to come. More simulator updates that will enhance the experience even further are undoubtedly on their way.