Most Popular Pickaxes in Fortnite History
Published 09/29/2021, 5:36 AM EDT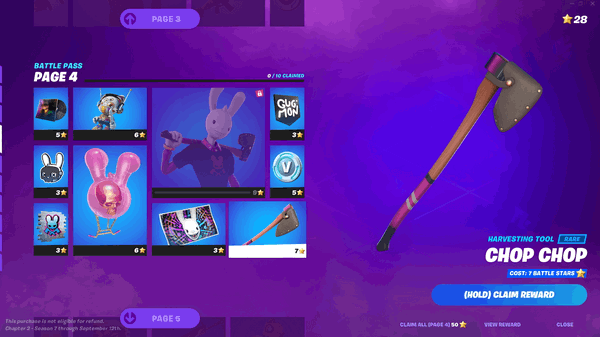 Character customization is a crucial element of Fortnite. Players can use a variety of items including gliders, skins, and pickaxes to create their unique in-game look. As a result, Epic Games has been able to capitalize on this with the item shop.
Epic regularly updates the shop with unique and themed cosmetics. These are some of the most commonly used pickaxes in the history of the battle royale game.
Star Wand
ADVERTISEMENT
Article continues below this ad
The Star Wand pickaxe is the perfect example of a simple concept and excellent execution. It was first released during chapter 2 season 8 and costs 800 V-Bucks in the item shop. The fact that it goes with almost any skin just adds to its popularity.
Watch this story: Worst Video Game Movie Adaptations
Throwback Axe
Epic knew just what to give Fortnite fans to keep themselves occupied during 2020. They tapped into their sentiments and released a Throwback Axe resembling the original Fortnite default ax. From November 4, 2020, to January 15, 2021, the cosmetic was completely free in the item shop.
Icebreaker
The Icebreaker is the first pickaxe to make its way to the Fortnite item shop. Combined with the fact that it only costs 500 V-Bucks, there is no surprise that most players own it. Despite the fact that it is quite plain-looking, it is an iconic item.
Driver
Avid golfers will be happy to know that one of the most popular pickaxes in Epic's battle royale is based on the sport. While the driver pickaxe is shaped like a golf club, the popular item provides all the utility of a pickaxe. When paired with its accompanying skin, it is one of the best-looking cosmetics in-game.
ADVERTISEMENT
Article continues below this ad
Reaper
Epic Games always has its best foot forward during Halloween promotions. Thus, their success with the Reaper pickaxe is quite understandable. The pickaxe is based on a sickle and costs only 800 V-Bucks.
These are some of the most commonly used pickaxes throughout the life cycle of Fortnite. What is your favorite material harvesting tool to equip? Let us know in the comments down below.
ADVERTISEMENT
Article continues below this ad