MrBeast Donates $100,000 to Twitch Streamers
Published 03/26/2021, 2:44 PM EDT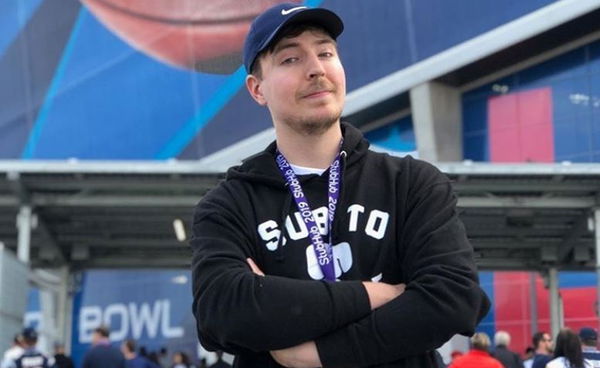 ---
---
MrBeast has played a major part in placing the 'challenge style' of videos on the Youtube map. He is one of the most generous content creators on the platform, and his nonchalant attitude after gifting away life-changing amounts of money is one of the reasons why his channel currently has over 55 million subscribers.
ADVERTISEMENT
Article continues below this ad
In his recent video, the YouTuber posed various challenges to Twitch streamers based on which he gave them donations. YouTubers such as Miniminter, Jacksepticeye, and Courage have also previously jumped on this trend.
The first streamer MrBeast came across was extremely well-built. As a result, the YouTuber threw the ball into his court, saying, "Every rep you do on the bench, ill donate $500." The streamer who was in the middle of his live workout loads up 225 pounds on the bench and began the challenge.
ADVERTISEMENT
Article continues below this ad
Sarcastically, MrBeast posed that if the streamer did 100 reps, he would have to donate $50,000. After completing an impressive 21 reps, the streamer came away with $10,500.
MrBeast continues to blow streamers' minds with his generosity
Next, MrBeast joined the stream of a young man playing GeoGuesser. This game places the player in a random location on Earth, who must then work his way through clues and identify where he is.
MrBeast challenged him to guess the exact country he was in for the prize of $10,000. After the starstruck streamer finally came to terms with the challenge, he was able to decipher that he was in an East Asian country, based on the letters.
He finally took a shot in the dark and guessed Japan. To everyone's, including his, surprise, he guessed correctly and MrBeast sent him the promised $10,000.
With the third donation, MrBeast patronized a streamer from the saturated Fortnite community. He agreed to donate $10,000 to her if she won her next game of the Battle Royale. Unfortunately for her, she was eliminated early into the game. However, after hearing about her unstable financial situation, MrBeast donated $5000 anyway.
ADVERTISEMENT
Article continues below this ad
The fourth streamer MrBeast found was a streamer called Nemo. Upon winning her game of Bullet Chess, she too received a $10,000 donation. The last streamer MrBeast donated to was one who was streaming Minecraft. At this point, MrBeast was just donating money for the fun of it. By the end of it, he donated $13,000 to this streamer.
Do you enjoy this challenge-style of donation videos? Let us know in the comments down below.
ADVERTISEMENT
Article continues below this ad