MrBeast Follows Stunning Appearance Alongside Joe Rogan With 'Ginormous' Reveal
Published 03/10/2022, 12:55 PM EST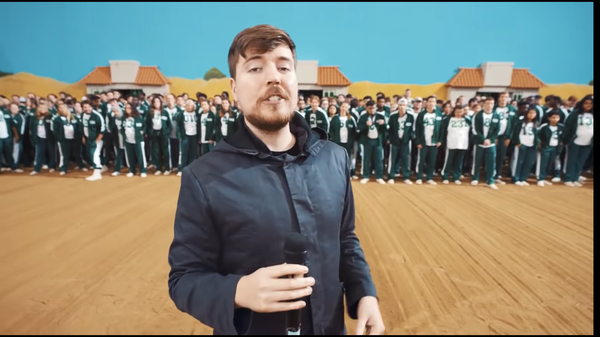 The success of Squid Games and the 225+ million views cannot be simply ignored. The real-life version of the popular tv series continues to attract viewers, and it stands as the most viewed video on the platform. MrBeast is indeed one of the biggest names in the modern era of YouTubers, and his special appearance on Joe Rogan Experience has already broken the internet much like his larger-than-life.
ADVERTISEMENT
Article continues below this ad
Rogan was in disbelief at all the things. Jimmy Donaldson (MrBeast) manages to do and still finds time for himself. It is not easy to run 10+ channels while still making time for his other business and to do philanthropy work. Now the YouTuber has come up with an update about his next endeavor that will certainly excite the fans.
We have two ginormous videos coming out this month 🙂

— MrBeast (@MrBeast) March 10, 2022
ADVERTISEMENT
Article continues below this ad
Can MrBeast break his own record with the upcoming video?
The 23-year-old creator has promised that his upcoming projects will be 'ginormous' in nature. In the podcast, he clearly stated that he has a myriad of amazing ideas already locked and loaded in his arsenal. He credited his entire team of brilliant technicians, and other members, who help him realize his ideas that oftentimes seem impossible.
He even humbly accepted that his team is super competent in carrying out all his ideas without him, and he is super proud of bringing such a team together. Jimmy also reiterated that his meticulous process of thinking out of the box and writing down every single idea that seems remotely interesting helped him realize many things.
The project to build Squid Game under one month's time seemed impossible on paper, but his superb team somehow managed to put everything together.
ADVERTISEMENT
Article continues below this ad
video source: MrBeast
ADVERTISEMENT
Article continues below this ad
The amount of money it takes to create a video of his main channel and the time-consuming process often hinders his ability to churn them out routinely. The squid game project alone cost him $4 million and took an entire month to create, which makes us all giddy up with excitement as the world is about receive 2 new content pieces from the biggest YouTuber on the planet.