MrBeast Gives Away $50,000 to A Random Fortnite Player in Collaboration With Epic Games
Published 03/31/2021, 2:24 PM EDT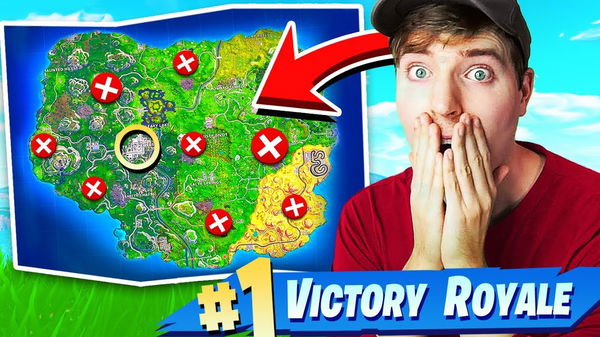 ---
---
Fortnite Battle Royale has just sponsored Jimmy "MrBeast" Donaldson in his latest challenge. The YouTuber announced a $50,000 prize for a random teammate if he were to win a Fortnite squad match.
ADVERTISEMENT
Article continues below this ad
Epic Games' Battle Royale just entered its sixth season. The game has millions of followers and with the new season rolled out, there is a lot up for grabs.
Fortnite sponsors MrBeast's new challenge
ADVERTISEMENT
Article continues below this ad
MrBeast is known for his unusual challenges and giveaways. On this occasion, it was all about winning Fortnite.
"Thank you Epic Games for sponsoring this video. Fortnite Season 6 Primal just dropped. If you haven't already, go download. And in this video, Fortnite is going to assign us a random teammate and if we win our next game of Fortnite, that random player gets $50,000 in cash," MrBeast said in the video.
Soon, he matched up with a player named Joshy. MrBeast played with Joshy alongside his friends Chandler and Landon.
Once the match started, Landon hilariously became the discouraging teammate, but played to his abilities. Landon was soon eliminated, leaving 3 players from their squad in the match.
Joshie continued racking up kills alongside MrBeast, but soon things turned around for the player. MrBeast and Landon tried to make it even harder for Joshy to win. They break down his builds and even decide not to shoot anymore midway.
Later, Joshy decides to go solo in his effort to win the grand prize. In a strange turn of events, Chandler gets knocked out and is eliminated by Joshy after MrBeast agrees to give an extra $100 if Joshy throws Chandler's character into the storm.
In the final moments of the game, Joshy was left to handle the remaining 3 players. He successfully eliminated all of them to win the Battle Royale.
ADVERTISEMENT
Article continues below this ad
Big plans for the future
MrBeast recently announced his new company, Creative Juice, that aims to help creators. In fact, he has invested $2 million of his own money to start things for this venture.
Creative Juice is an equity-based finance firm that will invest in smaller and progressing YouTube channels by buying a certain stake.
ADVERTISEMENT
Article continues below this ad
MrBeast, in the past, has mentioned his desire to do something for the community. Therefore, his new venture is a step in the right direction for the creator.