"My Brain Just Exploded!" – Valkyrae and Bella Poarch Take Twitter by Storm With Wild Valentine's Day Photoshoot
Published 02/15/2022, 8:45 AM EST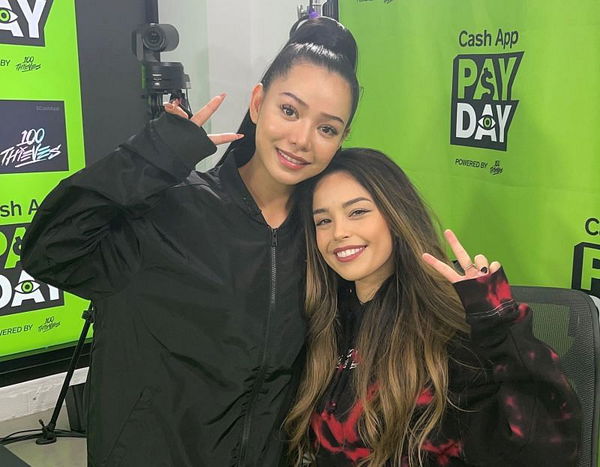 Rachell 'Valkyrae' Hofstetter has been on a roll recently. The Queen of YouTube has constantly been in the news, be it regarding her Twitter username saga(she finally settled on RAE), her appearance on the OfflineTV Podcast, or the stunning revelation that Twitch streamer Sykkuno is living with her. But these pale in comparison to the American streamer's Valentine's Day feat with Bella Poarch.
ADVERTISEMENT
Article continues below this ad
Valkyrae teamed up with the famous music artist for a special Valentine's Day themed photoshoot. The shocking reveal left many fans dazed, as the roster of photos shows the 100 Thieves co-owner in a completely new avatar. And fans seem to love every second of it.
ADVERTISEMENT
Article continues below this ad
Valkyrae and Bella Poarch celebrate Valentine's Day with an electrifying photoshoot
This is not the first time the two social media icons have collaborated. Bella and Rae are good friends, with the latter having even appeared in Bella's 'Inferno' music video alongside other prominent streamers. However, nobody expected the bombshell the duo dropped late on February 14.
It's a new look for the streamer and showcases herself and the TikTok star turned music artist Bella Poarch in a variety of poses and expressions whilst donning their signature Valentine's themed outfits. Furthermore, Bella even created a whole new website for behind-the-scenes content, some of which they shared on social media. In addition, they hinted a giveaway might also be in the works.
Valkyrae's fanbase is ecstatic about their queen's shocking avatar. And the comment section is nothing short of wild.
Take all the time you need.
Short but accurate.
This fan might have had their best Valentine's ever.
Even Twitch star Amouranth joined in on the praise.
The next Valentine's collaboration could be even bigger than the last.
My brain just exploded at the idea of a Bella/Amo/Rae photoshoot! Queens 👑

Maybe next time, @bellapoarch?🥺

— Cthulhuwu (@SussySundays) February 14, 2022
Creativity at its best.
The VAL in Valentine's Day meant Valkyrae this whole time.

— ghouly 🐉 (@ghooouly) February 14, 2022
WATCH THIS STORY- Top Things Fortnite star Ninja can't live without
Joe Bereta, executive producer at 100 Thieves, always comes in with the humor.
Look. I'm glad you had fun but can I please have my outfit back.

— Joe Bereta (@joebereta) February 14, 2022
It was only a matter of time before the memes sprang up.
ADVERTISEMENT
Article continues below this ad
just fell on my knees at the walmart self checkout line

— aidan. (@xAidanZul) February 14, 2022
ADVERTISEMENT
Article continues below this ad
Valkyrae definitely stole her fans' hearts with her latest stunt. What's more, according to Stream Hatchet's report, the 100 Thieves co-owner closed out 2021 with a bang. She ranked number two on their list of top female streamers of 2021, second only to Amouranth. With this momentum on her side, fans can hope to see amazing things from the streamer this year.