Nickmercs Finally Gets a Piece of the Faze Pie Following His Reveal As Its Co-Owner
Published 04/24/2021, 11:40 AM EDT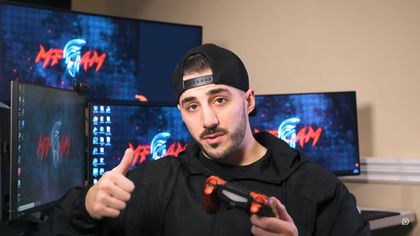 ---
---
Nicholas Kolcheff commonly known by his online alias Nickmercs is a Twitch Streamer and YouTuber. Nick first signed with the major eSports organization, Faze Clan, in May 2019. Fast forward two years later and he has announced that he has received equity in the organization and holds the position of co-owner.
ADVERTISEMENT
Article continues below this ad
Darren Yan, the head of talent at Faze, believes, "Nick is a very, very unique and special individual. I don't think someone like him comes often" and also describes him as a generational talent. Furthermore, he stated, "More than anything else, what really drew us to say we wanted to work with him is what he had built with MFAM and how he interacted with his fans and the way that he treated every single person around him as if they were family." 
The journey of Nickmercs from Fortnite player to Faze owner
ADVERTISEMENT
Article continues below this ad
Nick began his career in e-Sports as a Gears of War 2 national champion. He got his big break during the boom of Fortnite. During this time, streamers like Ninja and Tfue also rose to recognition. Being one of the few and most talented controller players, Nick was quickly recognized.
In his own words, Nick says, "I lucked out in the sense where Fortnite blew up and we had no idea it was gonna blow up. And then here I am, this f***ing console player, beating the shit out of PC kids and they're like, how the hell's he doing this s**t? Aim assist. Big, big, big part of it."
ADVERTISEMENT
Article continues below this ad
Nick is currently one of the biggest names in the gaming industry. According to the metrics site Twitch Tracker, Nick has over 67,000 active subscriptions, making him the fourth-most-subscribed-to streamer on Twitch. Thus it is no surprise that he is an integral part of Faze's future plans.
We recently saw creators like Valkyrae and CouRage earn a stake in the eSports organization 100 Thieves. It is an ideal strategy, as it is only organic for the organization to grow along with its members. Furthermore, it puts recognized faces at the forefront.
Do you think Nick deserves to be a co-owner of Faze? Let us know in the comments down below.
ADVERTISEMENT
Article continues below this ad