Nintendo Excites Its Ever-Growing Fanbase With Mario Strikers: Battle League Demo Schedule Ahead of Massive June 2022 Launch
Published 05/29/2022, 1:40 PM EDT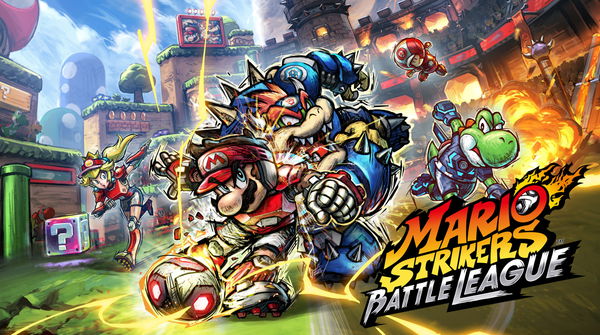 Nintendo fans are getting an all-new Mario Strikers game in a couple of weeks! And to make things easier and more exciting for fans, Nintendo has announced a free demo for all to try the upcoming Mario Strikers: Battle League before its official release.  
The demo is called Mario Strikers: Battle League First Kick, a clever idea considering the game's mechanics. To elaborate on the premise, Battle League will be featuring exciting 5-on-5 soccer-like online sports matches. 'The First Kick' demo event kickstarted on May 27 and will end on June 5. 
ADVERTISEMENT
Article continues below this ad
During the demo, players will be able to access two modes, offline and online. The offline mode is actually a training module that is available for everyone with a Nintendo Switch account. The makers added a training module to help players get accustomed to the game's soccer-like mechanics before they hop onto online matches. 
On the other hand, online play is available only to those who have a valid Nintendo Switch Online subscription. Also, note that online play is not available all the time.
Mario Strikers: Battle League gets 'First Kick', online play demo schedule below
Nintendo announced a schedule for online play, according to which players have to plan their demo fun. Apparently, the online multiplayer demo will start on June 3, so there's plenty of time for newbies to play the training module before going competitive. 
Here's the schedule for online multiplayer: 
June 3, 8-9 p.m. PDT

June 4, 4-5 a.m. PDT

June 4, 12-1 p.m. PDT

June 4, 8-9 p.m. PDT

June 5, 4-5 a.m. PDT

June 5, 12-1 p.m. PDT
Fans can download the Mario Strikers: Battle League First Kick demo from the Nintendo store till June 5. The official launch of the game is scheduled to happen soon after, i.e, on June 10. 
WATCH THIS STORY: Ranking the most stunning Nintendo Switch controllers of all time
Nintendo, as usual, is offering a 7-day free trial for Nintendo Switch Online to promote the game's online module alongside the subscription service. According to Nintendo, online matches during the demo will allow up to four players from two Nintendo Switch systems and a maximum of two players per console.
Battle League will come with 10 veteran characters, but not Daisy
Mario Strikers: Battle League will come with 10 core characters of the Super Mario fame, available during the demo and at launch. The list of playable characters includes Mario, Luigi, Bowser, Donkey Kong, Peach, Toad, Yoshi, Rosalina, Waluigi, Wario, and the goalie, Boom Boom. Each character has a special move – a masterstroke – known as the Hyper Strike, that boosts scores like crazy! 
The demo announcement also attracted a lot of fan reactions. While some were just excited to get a new Mario Strikers game after a hibernation of 15 years, others were disappointed with Nintendo for not including the veteran, Daisy in the character roster. 
Please have unlockable characters at launch, I want this game, I want to play as Diddy Kong for once that isn't Smash Bros as I'm not waiting until he's added in or not added at all like with Super Rushed, I don't want all the Kongs to be erased from existence except DK

— BrandonKong (@BrainyKong) May 27, 2022
Yeah this is a great idea. Especially for how focused the online is this. Would love if they actually developed it into an esport. Strikers is so competitive it would fit really well I think.

— Jonathan Lamb (@lambiepie64) May 27, 2022
ADVERTISEMENT
Article continues below this ad
Finally something to stream I'm excited

— Nathaniel Bandy (@NathanielBandy1) May 27, 2022
ADVERTISEMENT
Article continues below this ad
Have you tried the demo yet? What are your thoughts on Mario Strikers: Battle League? Let us know in the comments!
Edited By: Pritam Priyedarshi