Nintendo, PlayStation and Xbox Fans Unite as Fall Guys Finally Goes Free to Play!
Published 06/22/2022, 10:30 AM EDT
The fan-favorite multiplayer game Fall Guys is now available for free on Epic Games Store. Fans have been waiting for the game to go free to play, and the dream has finally come true.
ADVERTISEMENT
Article continues below this ad
Falls Guys is a platform-based battle royale that came out in 2020. But then it was only available on Microsoft Windows and PlayStation 4. The game became a colossal hit soon after its release. It's been two years since this game was released, and it's still a favorite.
ADVERTISEMENT
Article continues below this ad
The developers decided to turn the game into a free play. Further, Fall Guys would be available on PlayStation 5, Xbox One, and Series X/S. Not to forget, it will also be available on Nintendo Switch.
Fans celebrate as Fall Guys becomes free to play
As soon as the game was available on the Epic stores, fans didn't waste a second getting the game on their devices. Further, fans also shared their thoughts on the new free Fall Guys.
Many fans joked about the game as so many players tried playing that the server couldn't keep up with the demand. However, the devs took short notice and apologized to the fans on Twitter for the inconvenience.
Okay, so, got some of the frosting, got some of the ants

Say 54% of the frosting and 44% of the ants

Servers are starting to look better but there may be some teething issues whilst all bajillion of you try to play at once

Thanks for baring with us as we continue fixing it!! pic.twitter.com/3JzzRNYr27

— Fall Guys… FREE FOR ALL TODAY! 👑 (@FallGuysGame) June 21, 2022
just wanna apologise

last night we said "thanks for baring with us"

but we should have said "thanks for bearing with us"

pls keep your clothes on

thanks and sorry again pic.twitter.com/ln4sKYUCfM

— Fall Guys… FREE FOR ALL TODAY! 👑 (@FallGuysGame) June 22, 2022
What's new about this online platform-based battle royale game?
The free-to-play Fall Guys will have the same gameplay but one of the most significant changes would be that it's now available on various platforms, including Xbox and Nintendo. Moreover, Steam removed this game from their store as it will be available on Epic Games. However, those who owned a copy of Steam would continue to get updates and will be able to play with the new players joining the game from Epic.
ADVERTISEMENT
Article continues below this ad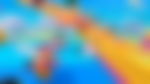 Another change of the new Fall Guys is that it has cross-play and cross-progression. So, the fans won't need to have different copies of this game on their other consoles.
WATCH THIS STORY: Ranking the highest-rated Nintendo games of all time
ADVERTISEMENT
Article continues below this ad
Also, now the game wouldn't change the main gameplay, as we said, but it will have a new in-game currency called Show-Bucks and a new progression system. Moreover, there would be new games round, but they will continue to take inspiration from game shows like Takeshi's Castle and It's a Knockout.
Millions of new fans have joined this world of jellybean beings, and more will be joining with each passing day. Are you going to play Fall Guys too?