"Oooo That's So Awesome!" – Amouranth Fans Are Excited to Know About $4 Million ASMR Queen's Recent Collaboration With a Video Game
Published 12/31/2022, 7:15 AM EST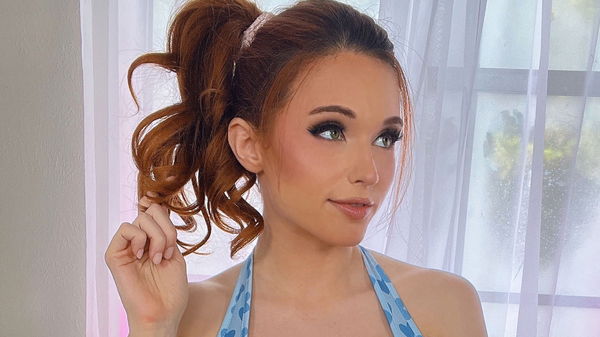 Streamers are a huge part of the gaming community. As a consequence, it is quite common for video game companies to collaborate with famous streamers. We already saw Epic Games collaborate with streamers like Ninja, SypherPK, and Bugha. So it isn't surprising that the 'ASMR Queen' signed a video game collaboration.
Kaitlyn "Amouranth" Siragusa needs no introduction, being one of the most famous Twitch streamers. She is well-known for her ASMR and hot-tubs streams. But she is also a casual gamer, as she started her live-streaming journey as an Overwatch streamer. Recently, she has been playing a lot of Pokemon Scarlet & Violet on her streams.
ADVERTISEMENT
Article continues below this ad
Her passion for video games has eventually landed her an appearance in a video game. The 29-year-old recently went on to her second Twitter account to share about this collaboration. But the question you might have is what is the game she's featuring in?
Amouranth is in an adult video game now
The Twitch streamer recently shared a picture of her in-game avatar. Furthermore, she shared the game in which her fans would get to play as her. So the game is called "H*ntai Heroes," and as the name suggests, it's an adult video game.
So only fans above the age of 18 would be officially allowed to play this video game. It is not a huge game that needs to be downloaded, so fans can simply play it on their web browsers by visiting the game's site. This game is quite similar to those dating sim games but with a lot of 18+ content.
As for Amouranth's appearance in the game, she is wearing purple clothes paired with a green scarf. Furthermore, her in-game character also has her iconic ginger hair. On a second look, Siragusa's in-game character shares a lot of similarities to Daphne Blake from the Scooby Doo series. Possibly that cartoon character was the inspiration for this.
How did Twitter react to ASMR Queen featuring in a game?
Many fans congratulated the streamers for this collaboration and claimed to play this game. Some fans claimed they already played it and have Amouranth's character in their gameplay. Some also requested the Twitch streamer to live-stream this game on her live stream.
Very nice! Hopefully you will play It on stream.

— Timo (@timothian_) December 30, 2022
Oh shit everyone gonna have some fun💜🍆💦

— Fighting God (@LittleANTxo) December 30, 2022
I signed up and pulled your toon after the tutorial. Gonna keep playing and max her out because of it hnnnnggg

— CloudSaint (@CloudSaint3) December 30, 2022
Awesome. Nutaku games are great. Just as good as any other mobile games. I think HH is one of their's.

— Darthbawlz (@sphilpott89) December 30, 2022
So stoked for this, I love HH so it's exciting when they add IRL creators 💙

— Cody (@Arcane__Justice) December 30, 2022
ADVERTISEMENT
Article continues below this ad
ADVERTISEMENT
Article continues below this ad
What are your thoughts about this collaboration between Amouranth and this adult video game? Let us know in the comments below.
WATCH THIS STORY: From Pokimane to Amouranth: Highest Earning Female Streamers in 2021
Edited By: Shibu Immanuel