PlayStation State of Play Dives Deeper into the Storyline and Gameplay of Ratchet and Clank
Published 04/30/2021, 3:40 PM EDT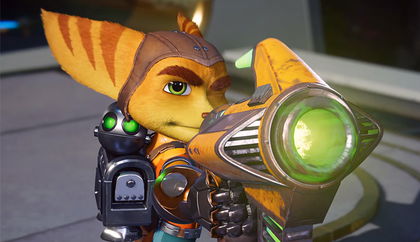 ---
---
Ratchet and Clank: Rift Apart will be the sequel to the 2016 rendition of the game. The sequel sees the dimension-hopping duo take on an evil emperor from another reality. You will be able to "Jump between action-packed worlds, and beyond at mind-blowing speeds—complete with dazzling visuals and an insane arsenal."
ADVERTISEMENT
Article continues below this ad
Fans got a closer look at both the gameplay and storyline at the recent State of Play held by PlayStation. It showcases a mission wherein the lombax Ratchet is looking for his lost metallic friend, Clank. It also showcases the urban sprawl of Nefarious City. Here, we get a look at the beautifully created graphics of an advanced civilization featuring spaceships and other inventions.
The game also has new mechanics compared to its previous iterations. One of the main focuses while developing the game was placed on increasing mobility. Resultantly, there is now dashing and wall-running, for example, and you can also use the new Rift Tether to connect to portals and zip from one location to another.
ADVERTISEMENT
Article continues below this ad
Dashing will allow you to evade enemy attacks and get to safety. Alternatively, you can use the rift tether to flank an enemy or escape from dangerous foes.
PlayStation State of Play showcases new mechanics in Ratchet and Clank
Similar to Returnal, Ratchet, and Clank: Rift Apart will be full use of the added capabilities of the DualSense controller. The new weapons will utilize adaptive triggers and haptic feedback. For instance, if a player is using a burst pistol, they can pull back the trigger halfway to shoot single accurately placed shots. On the other hand, pulling the trigger fully will lead to rapid-fire.
ADVERTISEMENT
Article continues below this ad
Later in the video, we are also introduced to Rivett. Rivett is a Lombax resistance fighter who lives in a different dimension than Ratchet and Clanks. We also see gameplay of Ratchet taking on a Nefarious Juggernaut.
Overall, the game looks extremely promising. It seems to have a good mix of a compelling storyline and interesting game mechanics. Ratchet and Clank: Rift Apart will release on June 11, and we cannot wait to play the game.
ADVERTISEMENT
Article continues below this ad