Pokimane Makes Karl Jacob Mad as She Tries to Destroy Dream SMP
Published 04/27/2021, 2:25 PM EDT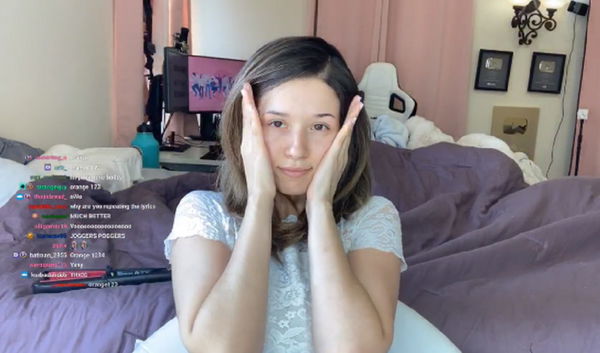 Pokimane once again stepped into the world of Minecraft with Dream SMP's creator, Karl Jacobs. The 24-year-old streamer went on a world tour of a famous multiple survival server that has attracted countless celebrities. It offers a unique platform where famous streamers can come together to tell unique stories and organize elaborate events. The collaborative efforts of the streamer along with Karl Jacob and his team have certainly created a dreamlike world in the game.
ADVERTISEMENT
Article continues below this ad
The Dream SMP server showcases beautiful landscapes and mind-boggling constructions. However, the streamer ended up doing something during the world tour that made Karl really furious.
ADVERTISEMENT
Article continues below this ad
video source: PokimaneYT
Pokimane fell for the oldest trick in the book
The streamer recently fell for one of the oldest memes on the internet. The famous streamer put on a viral Tik Tok video that contained self-defense tips. Little did she know that this elaborate self-defense would come back to bite her. The video took Poki under its spell, as she felt like it is indeed a real tutorial.
The viral video contained a bearded man who took the streamer under his confidence with his flamboyant voice. He suggested that the following trick can save her life in critical situations. The man also stated that the technique comes from Yeltsa Khir in 1987. This was the first prominent hint, as it was just the artist Rick Astley's name spelled backward.
She followed along with the instructions without ever catching the hint. The video also established the move to be overly dangerous, which made her believe it even more.
The man asked the streamer to curl her fist and form a punch and bring her hands towards the sides. It soon followed up with a video from the original song, hence completing the prank.
ADVERTISEMENT
Article continues below this ad
"No00, there is no way, there is literally no way, man. I just got rick rolled through Tik Tok in 2021, what the F**k. Oh, my god!"
ADVERTISEMENT
Article continues below this ad
The streamer also tried to play the same exact prank on her friend QuarterJade. However, the famous streamer caught on early and did not fell for the prank as Poki did.