'Rad!'–Reddit Community Goes Crazy as a Fortnite Fan Recreates the Entire Metallica Stage in the Battle Royale Game
Published 03/13/2023, 10:30 AM EDT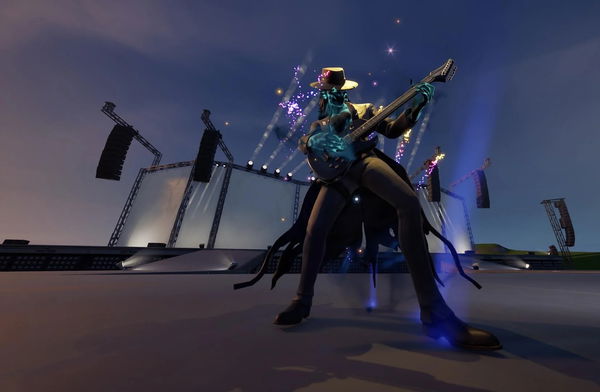 When given adequate tools and freedom, the gaming community could make some amazing spectacles of creativity. Games such as Animal Crossing and Minecraft have been great examples of such fan-made spectacles. But after the addition of the creative mode and its recent improvement, fans are building wild creations even in Fortnite. 
In a recent Reddit post, on r/Metallica, a fan shared that by using the creative mode, they have been able to recreate the entire Metallica stage in Fortnite. They shared the screenshots and a close look at their creation. The community was left in awe witnessing the stadium. Former players in the community couldn't even believe this was possible in the game. 
Fan creates Metallica replica in Fortnite
ADVERTISEMENT
Article continues below this ad
In the history of Rock and Roll, one of the most iconic and beloved bands is Metallica. Formed back in 1981, by the lead vocalist and guitarist James Hetfield and drummer Lars Ulrich, Metallica has an evergreen presence in pop culture. Even after decades since their last performance, their influence could still be felt, even in the newer generations. 
To give a tribute to the iconic band, a fan decided to recreate the full-fledged concert grounds of the band in the popular Battle royale, Fortnite. Utilizing the game's 'creative mode', the fan poured their imagination and successfully created an amazing replica of the Metallica Stage. 
Metallica was known for its over-the-top stage presence during its concerts. The venues were also designed specifically to accommodate their energy. Packed with lights, fireworks, massive LED screens, and more, which can be seen also in the fan-made Fortnite recreation of the stage. 
To match the iconic costumes that the band members used to wear during their concerts, the fan used in-game skins that resembled the ethereal ghostly vibes. The only thing missing in the whole setup was the music. This could be a tough thing to add as there are strict copyrights and rules for using Metallica's works. However, if we skip that part, everything else about the project was absolutely impeccable. 
The fans are nostalgic after seeing the Metallica stage
Both Metallica and Fortnite fans loved the design. They poured their love for the band and the game in the comments section. The former fans who no longer play the game couldn't believe how much has changed in Fortnite during the recent year.
ADVERTISEMENT
Article continues below this ad
ADVERTISEMENT
Article continues below this ad
The latest chapter 4, season 2 will be bringing more to the table. Such as new skins, stages, and more creative fun. Till then, enjoy winning the epic victory royale, while humming to the tunes of 'Kill 'Em All'.  
Watch this Story: Everything You Need To Know About Fortnite's Doomsday Device