Rockstar Games Are Cooking Up Something Spooky for the Halloween Event of Grand Theft Auto V Online
Published 10/20/2021, 9:48 AM EDT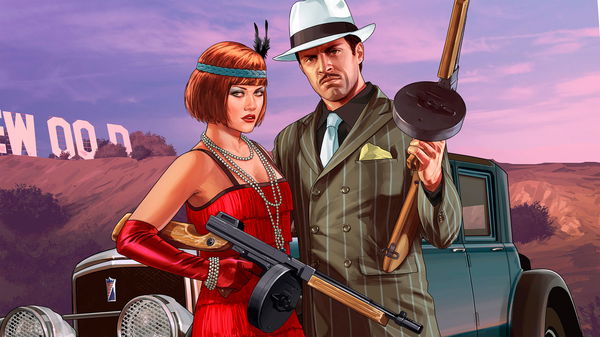 ---
---
The month of the spookiest festival has finally arrived. October is the time for horror fans to come out of the woodwork and dress up as their favorite character. Halloween has arrived and Grand Theft Auto V is going to kick up a storm of fantastic events.
ADVERTISEMENT
Article continues below this ad
Reports from within the community suggest Rockstar Games have planned something amazing for the GTA fans. This Halloween season will surely become a memorable one for the GTA V Online player base with aliens, UFOs, and more heading to the title.
ADVERTISEMENT
Article continues below this ad
video source:  MrBossFTW
Grand Theft Auto V Online is going to reel in aliens
Last year, Joe Rogan developed an interest in matters out of this world and he roped in people who have encountered alien beings on his podcast. Whether there's any truth to whether aliens exist is up to each individual, but GTA is surely going to offer you an interesting experience with alien beings. Rockstar Games have recently shared an elaborate tweet about aliens and their strange saucer-like vessels making their way to the game.
Gamers have already spotted a few UFOs in mid-air, but they never stay in one place for too long. These extraterrestrial vessels show up in a variety of locations like the desert, lighthouse, alien architecture spot, and more. The codename for this background update is called stage 1.
Watch this story: Why is GTA San Andreas so good?
ADVERTISEMENT
Article continues below this ad
Alien Invasion in GTA might be on the horizon
Rockstar Games may have taken a page out of Epic Games' book for this latest event. Fortnite just went through an elaborate arc, where aliens and UFOs ruled the land. However, things have restored to normalcy and aliens are now heading to GTA V Online.
ADVERTISEMENT
Article continues below this ad
If this is just the first phase of alien invasion, then there is a full-on war waiting for us all. It is quite obvious that future updates will make these beings even more aggressive as they continue to show up more often in the game. GTA fans just might be looking at an elaborate war, which could bring out a roster of amazing alien weaponry and technology.