"Ronaldo Is the Goat" – YouTuber IShowSpeed Takes a Shot at Argentina's Loss and Ends the Infamous Ronaldo vs Messi Debate Before FIFA World Cup 2022 Final
Published 11/25/2022, 6:50 AM EST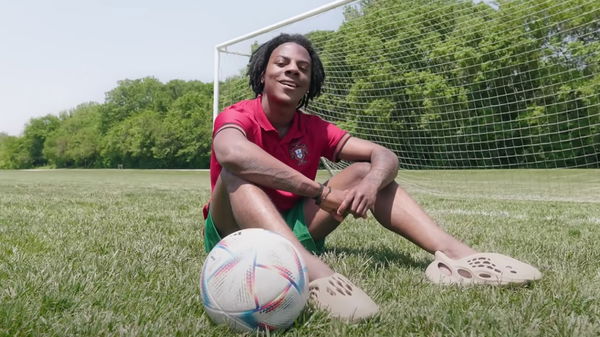 Darren "IShowSpeed" Watkins is a streamer on YouTube with over 13.3 million subscribers. The 17-year-old is famous for his eccentric personality and funny content. Lately, he has developed a great interest in soccer and took a special liking to the Portuguese forward Cristiano Ronaldo.
ADVERTISEMENT
Article continues below this ad
The YouTuber IShowSpeed never shied away from showing his love for the soccer star. He even went on to write a song based on CR7's iconic celebration. "Sewey." Once again, the 17-year-old YouTube streamer has shown his support and love for his idol Ronaldo with a tweet after the recent matches in the FIFA World Cup.
ADVERTISEMENT
Article continues below this ad
IShowSpeed gives his answer to the Messi vs. Ronaldo debate
Soccer is a global sport that is watched by billions of people. And two of the most beloved players in this sport right now are Lionel Messi and Cristiano Ronaldo. These two have dominated the soccer world for over a decade. As a result, their fans always debate over who is the "Greatest of All Time" among the two.
IShowSpeed has declared himself as a Ronaldo fan. So, no matter how good the former Barcelona superstar plays, it doesn't impress Speed. Once again, the 17-year-old stood biased toward the former Manchester United legend after his performance in the World Cup. Watkins tweeted, "Ronaldo is the goat I done ever wanna hear nothing about Messi."
The grandest soccer tournament, the FIFA World Cup, is currently taking place in Qatar. There are 32 national teams clashing for the grandest title in the world. Ronaldo is leading Portugal in the tournament. Recently, he scored a goal from the penalty spot at the World Cup match against Ghana, where Portugal ended up grabbing a narrow win of 3-2.
ADVERTISEMENT
Article continues below this ad
The Argentine star Messi also had a similar start. He also scored a penalty in his first match. However, the outcome here was different as Argentina lost 2-1, thanks to a brilliant comeback from Saudi Arabia. After this defeat, the chances of seeing Messi against Ronaldo in the finals are getting slimmer. However, with two more matches left in the group stages, there is plenty of time for that to happen.
Speed gets heartbroken after Cristiano Ronaldo leaves Manchester United
A couple of days ahead of Portugal's first World Cup match, Cristiano Ronaldo terminated his contract with the English soccer club Manchester United. There were disputes between the two entities which led to these results. But these developments have hurt a lot of fans, and one of them is IShowSpeed. The young YouTuber even showed his grief about this news on a livestream and Twitter.
ADVERTISEMENT
Article continues below this ad
WATCH THIS STORY: From Arsenal to PSG – Clubs That Almost Signed Cristiano Ronaldo
Ronaldo is now a free agent and hasn't decided where to go next. He won't be considering anything related to that yet, as he's focused on winning the FIFA World Cup with Portugal. Which club do you think will Ronaldo join once the World Cup ends?