RUMOR: Activision Working on a Standalone Call of Duty Zombies Game Similar to Warzone
Published 02/24/2021, 11:14 AM EST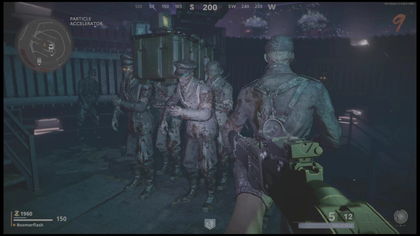 ---
---
The upcoming Season 2 of Call of Duty Black Ops Cold War will introduce the new open world zombies mode. Going by the name 'Outbreak', this mode features Ural mountains as the map. This game mode will revamp the zombies experience that will be unlike anything gamers have ever seen. For the first time, the zombie survival mode will step away from the limited sandbox styled map towards a massive open environment like Warzone. This serves as an excellent addition into the new Call of Duty universe that is being built with each title.
ADVERTISEMENT
Article continues below this ad
Activision built this universe in a step-by-step manner, starting with merger of Black Ops Cold War with Warzone. It looks like the gaming studio is now seriously considering a standalone zombie game in the near future.
ADVERTISEMENT
Article continues below this ad
According to rumors, the studio is actively working on a standalone zombie title that will mimic Warzone. However, the studio has offered no statement regarding this, so don't get your hopes up yet.
There is a separate Call of Duty zombies project in early development, that is currently not connected to any title.

— Tom Henderson (@_Tom_Henderson_) February 23, 2021
Reddit user shared the tweet on the official Call of Duty zombies page
Reddit user The_Warrchitect shared the aforementioned tweet on the official Call of Duty Zombies subreddit on the platform. His post attracted many comments from fellow users, who tried to decode the situation by offering their own theories. The one opinion that resonated with everyone labeled Outbreak as just a beta test before Activision unfurls the new Warzone like dedicated game for zombie fans.
ADVERTISEMENT
Article continues below this ad
The Battle Royale title, Warzone, fulfilled the community's wishes of getting their own Call of Duty version in this growing genre. However, the gaming studio never took similar steps to evolve the zombie survival mode past its sandbox style map. This could be Activision's attempts at making amends for the zombie community by introducing a dedicated standalone title. It would be a massive blunder on Activision's part if they attach a price on this new standalone zombie title.
The gaming industry is moving towards free-to-play offering with a business model that revolves around selling cosmetics. This will probably work out in Activision's favor if it offered this dedicated zombie mode for free, much like Warzone. It might pave the way to acquire more dedicated fans towards the franchise, thereby aiding the newer title to capitalize on the established fanbase.
ADVERTISEMENT
Article continues below this ad