Shortage of PlayStation 5 Stocks Again? Blame Project Eve's Director This Time!
Published 09/14/2021, 2:40 PM EDT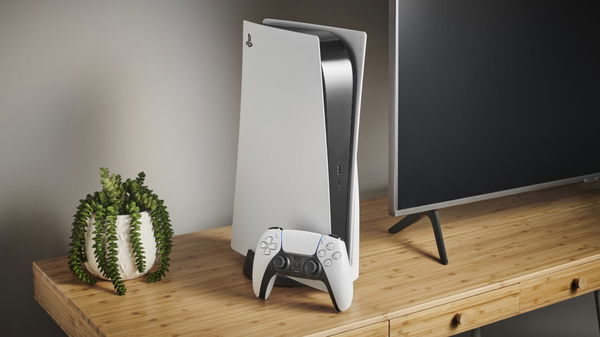 ---
---
Recently, Sony hosted a groundbreaking showcase that featured top titles that fans expected. This was an exclusive PlayStation 5 showcase that the gaming studio hosted to bring out new titles to the limelight. Finally, after waiting for nearly 4 years, fans got the chance to witness the revelation of God of War Ragnarok. Moreover, it also showcased a curious title project that compelled the game's director to surprise his employee with a fantastic gift.
ADVERTISEMENT
Article continues below this ad
Shift Up's Ceo, Hyun-Tae-Kim was so elated by the event that he gifted 260 PS5s to his employee. This has been yet another fascinating event that no one would have imagined seeing.
ADVERTISEMENT
Article continues below this ad
video source:  PlayStation
Shift Up's Ceo circumvented the shortage of PlayStation 5
According to a report by an Industry analyst, Daniel Ahmed, Shift Up's employees received the fascinating surprise gift. The studio's head wanted to celebrate the inclusion of their triple-A title in PlayStation's showcase. This served as a major breakthrough for the studio that has only produced mobile games right until it took on Project Eve.
Ever since the PS5 device was unfurled, fans have had a rough time getting their hands on the device. The usual scalping activities and unhinged bots bypass every retailer's countermeasures to pick up the entire lot. This only meant that these devices will land in the black market, where the prices will skyrocket to new heights.
ADVERTISEMENT
Article continues below this ad
The general public cannot afford such elevated prices, which could have been the only route Hyung could take. If this turns out to be false, then this amazing human being went the extra mile to reward his employees.
Project Eve is Shift Up's first triple-A title that is coming to all major platforms of the industry. This stylish action RPG title takes place in a post-apocalyptic version of earth.
ADVERTISEMENT
Article continues below this ad
In a distant dystopian world, human beings have become secondary creatures, as mysterious monsters rule the planet. It is up to eve to hack and slash her way through this world and help humanity to fend off against these dangerous extraterrestrial life forms.
Watch this story: Video Game Franchises Returning to Consoles
Trending Stories