Spider-Man 2 Actor Calls the Game Massive and Hints at the Sequel's Release Window!
Published 01/23/2023, 11:15 AM EST
Spider-Man 2 is one of the most anticipated games of 2023. Moreover, it is one of the most anticipated PlayStation 5 games launching this year. This sequel to one of 2018's most successful games has been in development at Insomniac games for around 4 years now.
Lately, there have been a number of updates on the upcoming game, the biggest being Insomniac's own response saying they are planning to launch it in the spring of 2023! Now fans have got a very interesting piece update from one of the game's actors!
Peter Parker voice actor says the upcoming Spider-Man 2 is "massive"!
ADVERTISEMENT
Article continues below this ad
Yuri Lowenthal, the voice actor working on Spider-Man 2, has revealed some new details about this upcoming game. He recently talked to ComicBookMovie.com and talked about the size of this upcoming sequel and also talked about when the production would end.
He said "I've still got a little bit to do. It's a massive game so I'm still doing a little bit of work," This just goes to show that Insomniac games and Sony are probably working on a very large game. That can't be denied, given the fact Spider-Man 2018 was pretty huge too.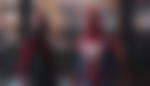 It was an open-world game with a huge line-up of supervillains. The sequel is said to have an even larger line-up and a darker tale to tell. A story that is several times the scale of the first game!
He then talked about the release window of the game. Previously Insomniac revealed that the game would be launching during the Spring of 2023. Yuri has gone on and confirmed that they are working hard to make that release date. He says that they think they would make that window. This should allow some fans of the game to take a sigh of relief. Especially, those who thought the game would probably be delayed.
ADVERTISEMENT
Article continues below this ad
The friendly neighborhood wall-crawler will fight a bunch of villains
The first-ever teaser of this game showcased Spider-Man and Miles Morales fighting a bunch of bad guys. A person can be heard talking over that fight. In the end, it is revealed that the voice was that of Venom and he was revealed as the prime villain of this game.
Another villain that has been teased for this game is Kraven the hunter, some fans believe that even though Venom was shown in the trailer, the voice was that of Kraven.
ADVERTISEMENT
Article continues below this ad
WATCH THIS STORY- Games With the Best Open World
Kraven has yet to be confirmed as one of the antagonists in the game, but if this game is set for spring, the reveal might not be very far.
Edited By: Jayant Chhabra