"Tarik Would Hate This" – Hasanabi Shares His Opinion on Kyedae's Response After Winning the "Best Valorant Streamer" Award
Published 03/15/2023, 10:30 AM EDT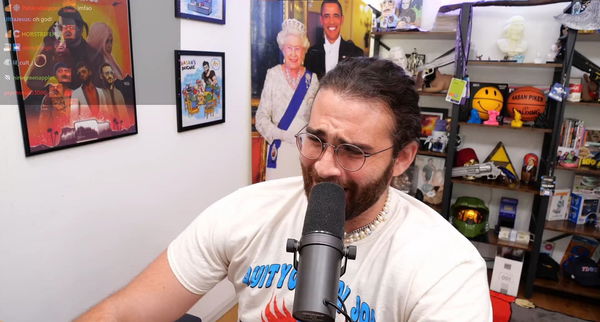 After Kyedae's 'dreadful' response following her win as the "Best Valorant Streamer" at the streamer awards 2023, HasanAbi and prominent streamers including QTcinderella, Valkyrae, and others shared their takes and opinions, on whether Kyedae's response was justified or not. 
In the post 'streamer awards' episode of HasanAbi's podcast, Fear&, HasanAbi featured the two hosts QTCinderella and Valkyrae as main guests. In their conversations, they discussed the various aspects and incidents that had happened during the awards show and after it, in the last stretch of the podcast, Hasan pondered upon the Kyedae situation. 
ADVERTISEMENT
Article continues below this ad
HasanAbi's response to Kyedae's Valorant dread
Just hours after winning the award, Kyedae wrote on Twitter, "The moment I won I felt more dread than anything because I knew the hate I'd get. Woohoo. Tarik is much more deserving of this award than anyone, but it was fan-voted. Not my fault. And I'm so sorry for whoever this upset" apologizing to the community for taking 'Tarik's award'. 
"Everyone was saying, Tarik got robbed. And I know Tarik, I love Tarik, that's my brother. Tarik would hate this. He would never ever, in a million years would want people doing this kind of insane sh*t. Especially because a lot of streamers are friends with one another… it is really fu*cing weird when parasocial attitudes get in the way." said HasanAbi about the toxic 'fandom'.
Kyedae I'm seriously sorry that you gotta even deal with that bs. You actually grind hard af and 100% deserve the recognition. Y'all need to chill out fr

— tarik (@tarik) March 12, 2023
QT also shared her thoughts, saying, this is one of the worst things about awards shows. According to her, the losing nominee's fanbase will always be louder and more toxic than the winner's. On Twitter, she also replied to Kyedae's concerns, saying that the decision was taken by Fan votes and there was no bias from the committee.
ADVERTISEMENT
Article continues below this ad
Looking at the overwhelming negativity by the community, QT is even considering removing the Valorant category all together from the event. "It's sad to see results from my award show being used to hate on creators who are meant to be celebrated please grow up and do better." said QT on Twitter. 
QT also revealed that Tarik was not even in the second place for the award. The results after the polls were:
Kyedae 

QuarterJade

Tarik

 Shazam
ADVERTISEMENT
Article continues below this ad
However, this fact managed to upset HasanAbi, who apparently was pushing hard for Tarik to win.
WATCH THIS STORY: Top 5 Xbox Exclusive Title Releases That Fans Cannot Miss
Edited By: Gideon Mathson