"There Was a Puppy on the Freeway" – Comedy-Tech YouTuber Michael Reeves Revealed How He Suffered From Slip Disc
Published 03/21/2023, 7:00 AM EDT

Follow Us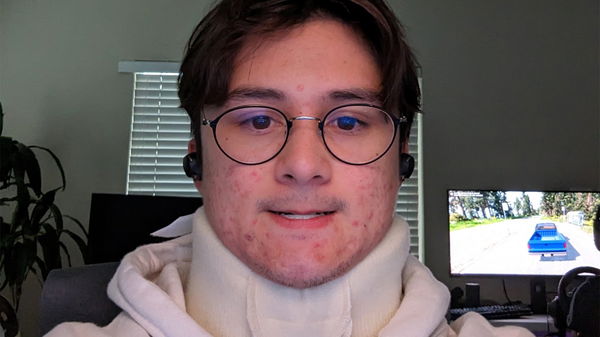 Michael Reeves has suffered a slipped disc in his neck. He recently shared a picture where he was wearing a cervical collar to prevent unnecessary movements. This was a huge shock for his friends and fans. Everyone was concerned about the 25-year-old content creator.
Reeves is famous for his unique and fun tech-related videos. He has come up with some of the craziest videos on his channel. But he never got injured pulling off those crazy experiments. So it was surprising for everyone how it happened. But Reeves himself has revealed the story behind this unfortunate situation.
Michael Reeves suffered a slipped disc because of a puppy?
ADVERTISEMENT
Article continues below this ad
Despite the injury, the "Mad Scientist" was still able to join his friends on their livestream. He recently was in conversation with kkatamina, Ludwig, Fuslie, Valkyrae, Sykkuno, and his girlfriend LilyPichu on their streams. During the stream, the Mogul Mail creator asked Michael about how he suffered the injury.
So the 25-year-old tech YouTuber shared his injury with his streamer friends. But no one would have expected the reason he gave. Reeves said, "Dude it's crazy. There was a puppy on the freeway, and I flipped over it." Everyone on the stream was stunned to hear the reason.
But it was not the actual reason and was just an everyday joke by Michael. He then revealed that he suffered a slipped disc in the shower. However, Ludwig confronted Michael about his previous reason behind the injury, saying, "So you didn't save the puppy. You just flipped over it."
After joking, everyone became concerned and wanted to clarify the actual reason behind his cervical collar was the puppy or the shower. His girlfriend, LillyPichu, then confirmed that he was injured in the shower.
The 'Mad Scientist' inspired his audience with a Tweet
The tech YouTuber himself isn't much worried about the slip disc. He instead claimed to work harder, as it will make his neck feel better. This message from Michael Reeves motivated his fellow content creator and even fans. They also claimed to follow in his footsteps and work harder.
i will heed your advice and grind harder, king

— Wendy (@Natsumiii) March 17, 2023
Although some joked with Michael Reeves about the injury and even gave some ideas for his content.
"Can you make robot that unslips disk?" – maxmoefoe

Get better soon fam 🙏💯

— BRGND (@real_brgnd) March 17, 2023
"I built a 10m SAAS to fix my spine and it tazes a random person in the room every 10 seconds"

except there is no spine fixing, only random acts of tazering, instant trending video

— some autistic wizard 🧙‍♂️ (@grave367) March 17, 2023
ADVERTISEMENT
Article continues below this ad
Just fix up the surgery robot and youll be fine

— Thomas (May or may not be a Tank Engine) Northeast (@Thomas_NEast) March 17, 2023
ADVERTISEMENT
Article continues below this ad
According to the doctors, the Mad Scientist would have to take a few weeks to recover from his slipped disc. He's known for his slow uploads, but with this injury, fans may have to wait even longer.
WATCH THIS STORY: Most Watched Female Twitch Streamers of 2022