"This Will Be the Pinnacle of This Year" – 'YouTube King' MrBeast Bodes Well With a Major Naruto Update
Published 03/10/2023, 9:00 AM EST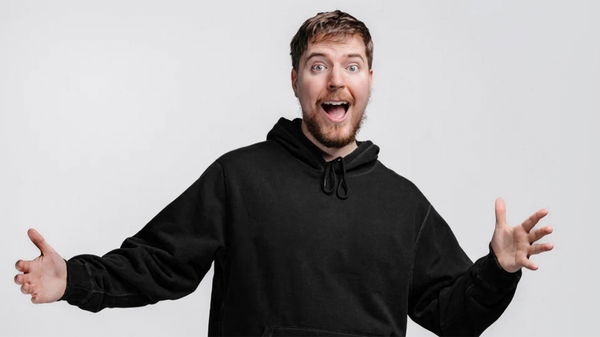 2023 is going to be a huge year for anime fans, as many exciting new anime series and seasons would be released. This year will be more memorable for anime fans because Naruto will celebrate its 20th anniversary. The Shonen series needs no introduction, as it is one of the most renowned animes in the world. The series caters to a huge fanbase, out of which one is MrBeast.
Jimmy "MrBeast" Donaldson has showcased his liking for this Japanese anime series many times. The "YouTube King" even got Junko Takeuchi to dub him in some of his videos for the Japanese audience. For those who don't know, Junko Takeuchi is a major star in Japan for being the official voice of Naruto Uzumaki.
Recently, MrBeast once again showed how big of a fan he is of Naruto, as he gave an exciting reaction towards a major Naruto update.
ADVERTISEMENT
Article continues below this ad
MrBeast can't hold his excitement about the new Naruto episodes
The official website of Naruto recently announced that the ongoing BORUTO: Naruto Next Generations Anime's Part One would conclude on March 26. Nonetheless, they have assured fans that Part Two is currently in the works. They have planned four new episodes to celebrate Naruto's 20th anniversary.
This information spread like a wildfire across the internet and eventually reached MrBeast. The 24-year-old recently won the 'Favorite Male Streamer' at Kid's Choice Award in 2023. But getting new Naruto episodes was more exciting for the streamer than winning awards.
This will be the pinnacle of this year for me

— MrBeast (@MrBeast) March 10, 2023
These new episodes of the original show will begin airing in September 2023. Studio Pierrot, which made the Naruto series, released the "Road of " which showed some of the fan-favorite moments from the anime. It had a brand new animation style that no one saw before, and these upcoming four episodes might have similar animations.
Fans share the same emotion as Jimmy Donaldson
MrBeast's audience shared the same reaction as the YouTuber after hearing about this Naruto update. They are also looking forward to the upcoming four episodes to commemorate the show's 20th anniversary. Some fans even asked MrBeast to make a Naruto challenge video or make his own anime.
Let me guess

the pinnacle last year was Junko Takeuchi voicing you in your videos 👀

— ❄️CGN | Yakumo❄️ (@YakumoSSB) March 10, 2023
Greatest pinnacle of 2023 tbh

— MickandMorty (@MickandMorty) March 10, 2023
Woah you love Naruto! Please make Naruto challenge Mr.Beast!

— Chris : Born-Neon ✪ (@BEON_Chris) March 10, 2023
Make your anime at this point!

— Pranjal Chaplot (@pranjalchaplot) March 10, 2023
ADVERTISEMENT
Article continues below this ad
Have you ever thought about doing an animation studio ?

— Winter (@winter96fall) March 10, 2023
ADVERTISEMENT
Article continues below this ad
Are you also excited about these four new Naruto episodes like MrBeast? Share your reaction in the comments below.
WATCH THIS STORY: MrBeast Amazes Many Top Stars after Achieving 100 Million Subscribers