"Thought This Game Was Finally Done and Over?": Ubisoft Surprises Fans With Assassin's Creed Valhalla and Destiny 2 Crossover
Published 12/02/2022, 7:50 AM EST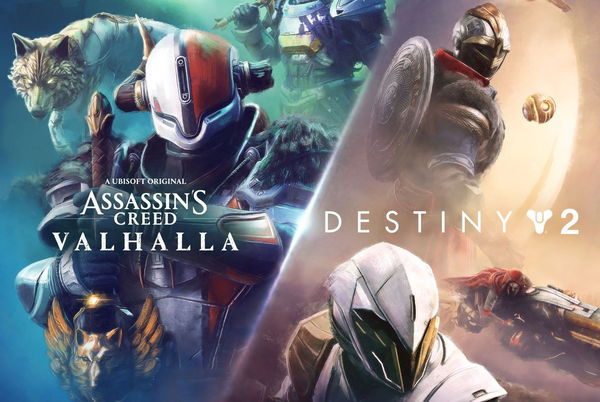 Assassin's Creed and Destiny 2 can't be any more different. But they are similar in one way, as they are both live service titles. Assassin's Creed Valhalla got its latest content update recently which brought players a bunch of new content, some new features, and a new character to connect this game to the upcoming Assassin's Creed: Mirage.
While fans are already enjoying this new update and their first look at that new surprising character, it seems like Ubisoft is not done with the game yet. In their recent blog, they revealed some details regarding a crossover event Assassin's Creed developers have organized with Bungie's live service game Destiny 2.
ADVERTISEMENT
Article continues below this ad
The new crossover between Assassin's Creed Valhalla and Destiny 2 would bring Destiny-themed content to Assassin's Creed and vice versa.
As per the details on the blog, Assassin's Creed players would be able to purchase Destiny 2-themed character packs, that would include armor sets, swords, a scout skin, and a mount skin. There would also be a weapon pack available to purchase, which would have four different spins on Destiny's iconic subclasses.
Destiny 2 players, on the other hand, would be able to head to the Eververse store and buy themselves a bunch of Assassin's Creed Valhalla theme items such as Assassin's Creed-themed ship, Sparrow, Ghost, and finisher cosmetics. Along with these, they can also buy three armor ornament sets.
This content would be available to players of both these games starting December 6.
An announcement like this for two live service games is nothing new. Games like these have been offering content based on other games for a while now. Earlier, Destiny 2 featured crossover content from games like Fortnite and even Fall Guys.
On the other hand, Assassin's creed developer is famously known to have such crossovers for the longest time. Once Assassin's Creed Brotherhood featured content from the Metal Gear Solid series. Players could unlock Raiden's skin for Ezio in the game by doing some simple tasks.
How did the fans react to this crossover between Destiny 2 and Assassin's Creed?
Now the announcement of this latest crossover between Assassin's Creed Valhalla and Destiny 2 has really got people talking. Some are really happy, while others are miffed about this content being held behind a paywall.
Thought this game was finally done and over?

— Miss N (@PhoenixworksBos) December 1, 2022
Glad to see AC has fully gone off the rails… guess my favorite series is fully done then, replaced by… whatever this has become.

— Sierra-010 (@Sentzke010) December 1, 2022
Just started playing ac valhalla. Destiny has been main game for awhile. Is there a companion app like destiny item manager for ac?

— Paula Griffith (@pgriffy) December 2, 2022
Does anyone rember when assassins creed was about assassins and templars and was actually good cause i do

— hardtothecore (@hardtothecore2) December 1, 2022
ADVERTISEMENT
Article continues below this ad
It is not very surprising to see fans not in support of this crossover. Some see it as a clear effort to just make some extra money. Others just see no point to it and want Ubisoft to work on the base game's story instead.
Ubisoft had announced Valhalla to be their live service game, and they have been doing everything to keep it going and keep it interesting at the same time. Let us see where they take it from here.
ADVERTISEMENT
Article continues below this ad
WATCH THIS NOW- Best Looter Shooter Games Available on Playstation Xbox and PC
What are your thoughts on this crossover? Share your thoughts in the comments below.