TSM Myth Takes Dig at Valorant; Says Fortnite Community Better at This Life Skill
Published 02/25/2021, 12:36 PM EST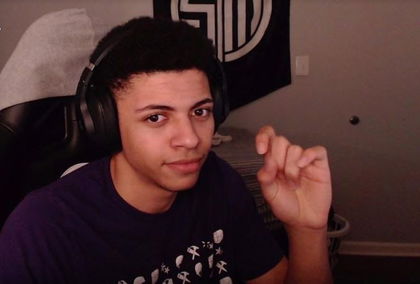 ---
---
Team SoloMid's celebrity content creator, TSM Myth, took to Twitter to share his frustration about Valorant players. The famous streamer compared his mute team mates in ranked lobbies with children who play Fortnite. He suggested that diaper wearing kids communicate better than adults who play Valorant. The comments expressed on the tweet also resonated with the users on the platform.
ADVERTISEMENT
Article continues below this ad
So far, the tweet has attracted over 9k likes and over 300 retweets in the span of a few hours. This indeed serves as evidence that Myth's comments depict the sad reality of Valorant Ranked games.
ADVERTISEMENT
Article continues below this ad
I swear to god, 6 year olds still wearing diapers use their microphone more in Fortnite than grown ass men playing Valorant.

— Myth (@TSM_Myth) February 24, 2021
Riot Games's competitive title is also plagued with teammates who go AFK mid game. These are usually smurf or blatant hackers, and in most cases just pure toxic players. The developers will have to counteract these issues, however, dealing with non responsive players might seem tricky. Although non communicative teammates dampen the ranked experience, they are not committing a serious crime. However, that does not change the fact that the absence of communication puts you at a serious disadvantage, often costing you the game.
Twitter reacts to TSM Myth down playing Valorant players
This tweet attracted a lot of comments from the community, as fans shared their experiences on the thread. No competitive title can ever work with mute teammates, lesser so, with toxic players. The Valorant community also highlighted various other issues that make ranked lobbies a serious headache for everyone involved.
Toxic behavior might be the most important issue that Riot needs to tackle in order to promote free flow of communication.
team communication/trash talking died with BO2. everyone scared to get on the mic on any game now. lowkey depressing. finding people to play with was so easy in-game back then.

— Isaiah (@2woMinds) February 24, 2021
This might be because of aggressive players who never let other people talk. If this is the norm in the competitive titles, then newer players will not find much use for their communication devices.
Its weird because back when shooters like COD and Halo were becoming, everyone was on the mic. Yes, a ton of toxicity, but everyone talked. Now randoms never talk. So weird.

— SMHHHH (@dothings4things) February 24, 2021
Another reply pointed towards a rather common issue that female players within the community have to go through daily. Gamers either act abnormally when they encounter a female or some might scream random curse words at them. This will also come under the umbrella of toxicity that needs to be addressed at the earliest.
i remember one time i solo q'd into a game w a 4 stack, and none of them spoke until the last couple of rounds, and instead of giving me comms, they insulted me when they realised im a girl lol. i just wanted to play val man

— becky (@loserbex) February 24, 2021
ADVERTISEMENT
Article continues below this ad
A recurring problem in the ranked games is that players don't really want to work together. Instead, they prefer to critique each other in the worst possible manner.
Every god damn time I queue:
"Do you guys have a mic?", no one responds.
The game starts, "hey team, do you have a mic?", no one responds.
Then out of nowhere on round 6 everyone suddenly talks but for one minute just to flame and be toxic, great stuff 😪

— Troye (@Xeyort) February 25, 2021
ADVERTISEMENT
Article continues below this ad