Twitter Reacts to Valkyrae Surprising Her Fans by Appearing in Bella Poarch's Music Video
Published 05/14/2021, 3:07 PM EDT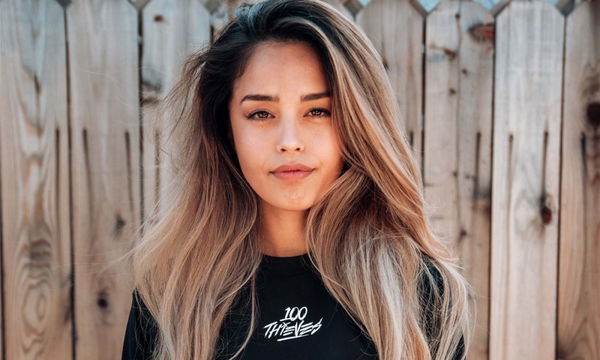 ---
---
Rachell 'Valkyrae' Hofstetter has once again shocked the world by appearing in yet another music video. The content creator of the year appeared in Bella Porch's latest music video, 'Build a B***H. The critically acclaimed streamer stunned her fans, as the video garnered over 7 million views in just over 13 hours. It seems like the successful collaboration with MGK X Corps Husband's song has paved her way into the music industry.
ADVERTISEMENT
Article continues below this ad
ADVERTISEMENT
Article continues below this ad
Video source: Bella Poarch
This will mark as another feather in her cap, as the 29-year-old continues to make headways in the world.
Twitter reacts to Valkyrae making a cameo in Bella Poarch's music video
Naturally, Valkyrae's surprising appearance turned heads, as fans shared their opinion about the same. Rae's small circle of friends and regular members of her crazy Among Us lobby were the first ones to offer a reaction.
Fellow 100Thieves member and content creator, Brooke AB offered her thoughts about the video.
OH MYYYYYY GODDDD IM DROOLING PLEASE KICK ME IN THE FACE ‼️‼️‼️‼️

— brooke ♡ (@brookeab) May 14, 2021
Regular member and fellow streamer Karl Jacob poked fun at Rae with a hilarious joke.
Rae! This is a picture not a video. Figured I should let you know 👍🏼

— karl 🙂 (@KarlJacobs_) May 14, 2021
The life of the 100Thieves house, and fellow co-owner of the organization, Jack' CouRage' Dunlop also shared his thoughts. As always, the famous 27-year-old streamer showcased his humor that will tickle your funny bones.
Rae,

I wore that exact same outfit and hairstyle to dinner last week.

Stop copying me 😂😂😂💯💯😳👍🏼👍🏼🔥🤯👍🏼👍🏼😔

— Jack "CouRage" Dunlop (@CouRageJD) May 14, 2021
Jacksepticeye awarded Rae with the esteemed award content creator of the year award, which marks the greatest moment of her life. If you saw the moment live, you would know that he is one of her biggest supporters.
The video was dope, you did a great job!

— Jacksepticeye (@Jacksepticeye) May 14, 2021
Bella Poarch also showed up on the thread to shower words of praise and love.
ADVERTISEMENT
Article continues below this ad
Did I see the music video??? Did I see YOU😍😍😍

— Bella Poarch (@bellapoarch) May 14, 2021
Valkyrae has been in the streaming world for a long time, and she finally found success in 2020. The famous streamer organized one of the most entertaining series of Among Us lobbies. Incidentally. the break-out title of 2020 also helped her attain the prestigious reward of the content of the year and essentially turned her into a household name.
ADVERTISEMENT
Article continues below this ad
Her continued success and meteoric rise is a testament to her attractive personality. It has definitely helped her become one of the biggest female streamers in the world.
Trending Stories