Unfortunate! Nintendo Switch OLED Takes a Page Out of PlayStation 5 and Xbox Series X
Published 10/08/2021, 6:49 AM EDT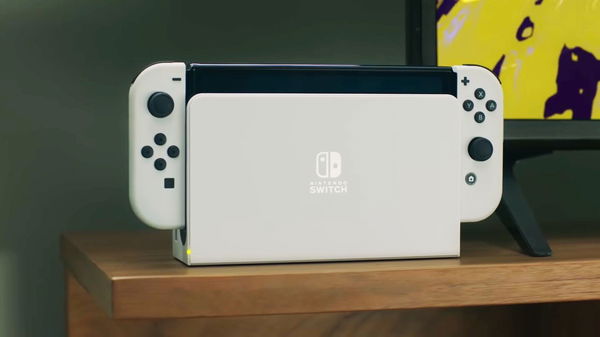 ---
---
Consumers are facing pre-order delay problems with Nintendo Switch OLED and they aren't happy about it. The new handheld console is slated to launch on October 8 and pre-order for the device began a while ago. But now the buyers are stating shipping problems and order delays.
ADVERTISEMENT
Article continues below this ad
What's worse is those who have pre-ordered the Nintendo Switch OLED model do not know their order status or if they will be getting one or not.
Nintendo Switch OLED buyers are experiencing pre-order delays
ADVERTISEMENT
Article continues below this ad
Recently, several buyers have reported that they were being notified of the last-minute delays by Nintendo. There are even some other buyers who are completely in the dark and have no information about their Nintendo Switch OLED pre-order.
This has left people baffled and they are not exactly happy with the way things have turned out. The pre-order delays have been sighted in countries including the UK, the US, and Australia. People in these regions, who wanted to enjoy games on the newer Switch OLED model and had pre-ordered the console, are being told about the delay at the last minute.
This has ruined the excitement and the joy of most people. Users are concerned about the supply and shipping status and asking Nintendo about their orders. This has been the case with the PlayStation 5 and the Xbox Series X and S as well. Both the major launches have suffered ordering issues. Some PlayStation users have even been deprived of the console after having the invite and being in the queue.
Hey @BestBuy should I be concerned at all regarding my Switch OLED order? Still says "we will let you know when it's ready, no date for your preorder has been set" when the console comes out in 2 days. Just want to make sure my console is actually going to be there.

— BulletBugeye (@BulletBeez) October 7, 2021
ADVERTISEMENT
Article continues below this ad
Priced at $349.99 or £309.99, the Nintendo Switch OLED is available in two color sets namely white and red/blue. The console sports no major transformation from the earlier Switch console.
The company should have better conveyed all the information to the users in a timely manner. Keeping people in the dark is not a good thing and these kinds of issues should be avoided.
ADVERTISEMENT
Article continues below this ad
Do you like the new Nintendo Switch OLED? Let us know in the comments.
Trending Stories