Valkyrae Bursts Into Tears as She Apologizes for the Actions of Her Fans
Published 09/09/2021, 7:09 AM EDT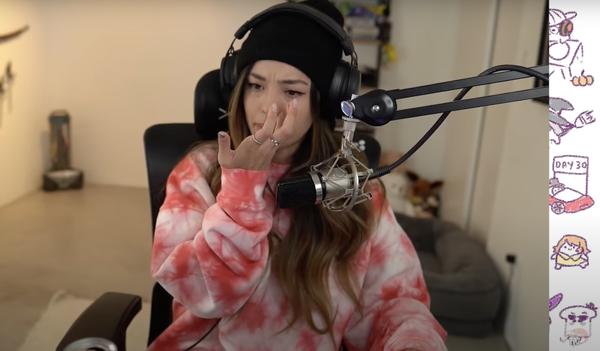 ---
---
Rachell Hofstetter, better known as Valkyrae, has seen a meteoritic rise in the recent past. She left Twitch to sign an exclusive deal with YouTube Gaming in early 2020 and became the fastest growing and most-viewed female streamer of the year.
ADVERTISEMENT
Article continues below this ad
The 29-year-old is also the co-owner of the American lifestyle and gaming organization 100 Thieves and has a massive fan following. But fans sometimes can go above and beyond what's needed. Recently, Valkyrae shared how her single reply to a user's now-deleted post led to her toxic fans sending death threats to the Twitter user.
ADVERTISEMENT
Article continues below this ad
Valkyrae addresses the issue on stream after her fans send death threats to a Twitter user
In her latest video, Valkyrae broke down in tears while talking about the situation on her stream. The YouTuber had earlier reacted to a Twitter user who had tweeted that they did not want to see Valkyrae's ex-boyfriend in a broadcast. Valkyrae responded to the tweet by declaring she would cancel the stream, not giving it much thought. To her surprise, the person she had replied to started receiving death threats and offensive images for Valkyrae's response. Valkyrae started to cry as she described how regretful she felt at this abuse, primarily after getting to know that the person she had replied to was a minor. Her fans and those who loved the streamer became concerned about Valkyrae's mental health as well as her situation. She later responded by saying she was doing okay. To put it in her own words, "I'm fine, I'm fine. I just felt really bad."
ADVERTISEMENT
Article continues below this ad
PLEASE do not harass / send death threats to people sharing their opinions ESPECIALLY ON BEHALF OF ME! I replied to an account and was ignorant of how others would reply to them as well and I feel entirely responsible. I'm sorry to anybody whos attacked by people "defending" me

— rae☀️ (@Valkyrae) September 4, 2021
Valkyrae later revealed that she had reached out to the Twitter user and apologized for whatever she had to go through. The YouTuber also reemphasized that she shouldn't have reacted to the girl and had overlooked the implications of her posts on social media.
ADVERTISEMENT
Article continues below this ad
This is one of many incidents that go to show how fans' love for their favorite personality can quickly get out of control on social media. Regardless, Valkyrae opening up and speaking against the entire matter was a great thing.
Watch this story: Worst Video Game Movie Adaptations
Trending Stories