Warzone Community Stunned by Krampus' Powers Following Fresh Pacific Update
Published 12/19/2021, 8:56 AM EST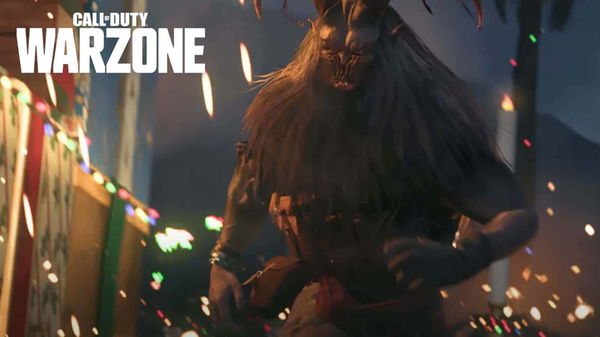 ---
---
Call of Duty Warzone has received a fresh update for Christmas. Raven has added a being known as Krampus. Krampus is a horned monster from European folklore. This terrifying beast is known to scare children around Christmas. The beast appears randomly in Warzone and terrorizes players by attacking them.
ADVERTISEMENT
Article continues below this ad
Incredibly resistant to damage, it takes a lot of effort to put down the horrifying beast. Plus, it's very easy to get killed by the monster. And members of the community feel that Raven should perhaps turn it down a notch.
Watch Story: Most Hated Features of Fortnite Chapter 2
ADVERTISEMENT
Article continues below this ad
Notorious Krumpus overwhelming Warzone players
A Reddit user uploaded a clip on the game's official subreddit. The clip showcased the player hilariously trying to take down Krampus to no avail. While the clip is funny to watch, it highlights an issue. Is Krampus too much?
Like-minded players in the comments feel that perhaps this beast needs to be nerfed.
Trying to 1v4 squads while Krampus is hunting me down has to be one of the most frustrating things I've ever experienced in Warzone.

— ShadedStep (@ShadedStep) December 18, 2021
This Krampus shit in Warzone right now is fucking lame. Probably won't play until it's taken out.

— Hound Of F8 (@HoundOfF8) December 18, 2021
Whoever thought Krampus in Warzone was a good idea has 0 brain cells

— Ali-A (@OMGitsAliA) December 18, 2021
whoever decided to put this krampus thing in warzone can kiss the fattest part of my ass. i hope whoever it is has a terrible holiday. i hope it's all screaming babies and diarrhea.

— Ryan Nelson-Cain (@SweetCainMusic) December 18, 2021
ADVERTISEMENT
Article continues below this ad
ADVERTISEMENT
Article continues below this ad
Krampus, as it turns out, is not a hit with Warzone players. While there is a minority that likes the randomness created, the majority of the community can't wait for the removal of Krampus.