WATCH: After Winning Their Bouts, KSI Hugs a Grateful Luis Pineda Who Had His Life Changed After Fighting The YouTube Star
Published 01/15/2023, 10:30 AM EST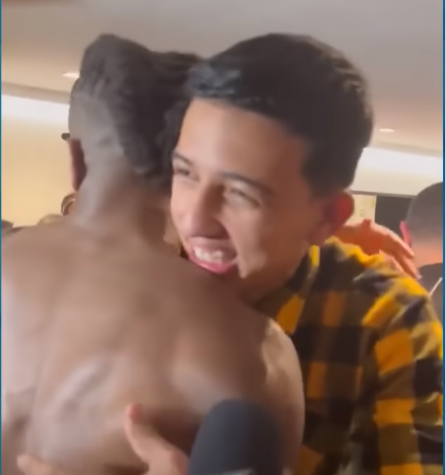 On January 14, 2023, KSI added another star to his already impressive boxing career record as he defeats a highly anticipated opponent, FaZe Temperrr. On the other hand, the fan-favorite rival, Luis Pineda, bounced back from his previous defeat against KSI by beating the debuting influencer boxer, BDave.
After giving each other the heat in the boxing ring, fans believed there must be some beef between the fighters. But the internet was left in awe after a clip went viral, where Pineda hugs JJ after his fight. In the video, it was clear that Pineda is very grateful to KSI, as fighting him has given him the spotlight that changed his life forever. 
Post-match hug between KSI and Luis Pineda leaves the internet in awe
ADVERTISEMENT
Article continues below this ad
The night of January 14 was beyond wild. The Misfit Boxing event in collaboration with DAZN boxing had set up spectacle after spectacle throughout the night. Other than the main event between Olajide "JJ" Olatunji aka KSI vs FaZe clan member Temperrr, the event featured many fan-favorite returns, such as Salt Papi, Slim Albaher, Luis Pineda and Swarm.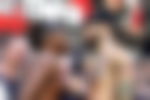 Despite being a highly anticipated bout, the fight between KSI and Temperrr wasn't able to live up to the expectation. KSI ravaged Temperrr in the first round, wrapping up the match with a round-one knockout. In the beginning, the match seemed fairly even, but as the timer went on, KSI broke through the FaZe member's defenses and gave a severe punishment. 
On the other hand, the fan-favorite Luis Pineda was also successful in bagging a win in the night against the debuting influencer boxer BDave. After his harsh defeat against KSI, the Mexican "Misfit" boxer showed the world he was also worthy of the ring. In the three-round bout, Pineda wrapped the match as the winner against BDave. 
To add the cherry on top of the fairytale-like event, KSI and Pineda gave each other a warm hug after winning their respective bouts. Setting aside all the beef and harsh feelings, Luis Pineda expressed gratitude to the British YouTuber for giving him the stage and the spotlight through "Misfit Boxing" that he and his family desperately needed. 
ADVERTISEMENT
Article continues below this ad
Watch:-
Match results of the event:
ADVERTISEMENT
Article continues below this ad
KSI def. FaZe Temperrr – KO (Rd. 1)
Slim Albaher def. Tom Zanetti – Unanimous Decision (39-37 x2, 39-38)
Salt Papi def. Josh Brueckner – KO (Rd. 2)
Alcaraz Pineda def. BDave – Unanimous Decision (30-25×3)
Swarmz def. Ryan Taylor – TKO (Rd. 1)
Elle Brooke def. Faith Ordway – TKO (Rd. 1)
Idris Virgo def. Anthony Taylor – Unanimous Decision (40-32 x3)
WATCH THE STORY: 'I'll Smack You in Front of Your Wife and Kids': Jake Paul's Teammate Sends Violent Threat To UFC Fighter