WATCH: Pope Francis Breaks Character By Giving Rare Seal Of Approval to Undertale's Exciting Music
Published 01/07/2022, 11:14 AM EST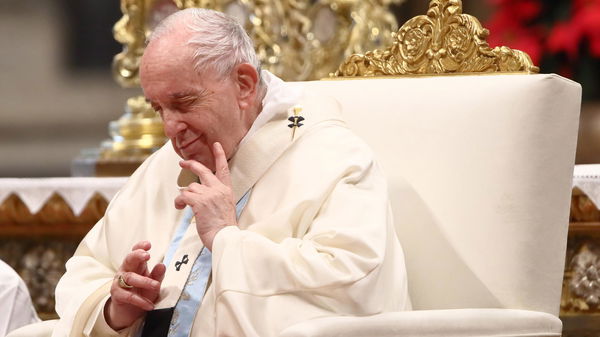 The power of video games and music combined can create everlasting experiences that fans simply cannot forget. Titles like Mass Effect, Undertale, Doom, and many more have acquired a special place, thanks to their fantastic musical scores. Well, something truly majestic recently took place within the most illustrious and sacred city of the Vatican. The entire world got to witness the Pope admiring the fantastic tune of Megalovania from the indie title Undertale.
ADVERTISEMENT
Article continues below this ad
2022 is off to a great start, as both gamers and followers of the Pope have truly witnessed a hidden side of the leader of the Bishop of Rome.
ADVERTISEMENT
Article continues below this ad
Undertale has the seal of approval from the Pope
Falling in love with indie titles is an affair that has been going on forever. Gamers love to sit back and have fun with simple, straightforward titles that do not demand much. These relatively simple action games offer great enjoyment and deliver action with no strings attached.
If the game carries fantastic music, then the fun factor is multiplied exponentially. Something that Undertale's OST track, Megalovania, managed to deliver, and it even fetched a special reaction from the Pope himself. Being an indie title, Undertale did not have a massive team, and a single person was responsible for building its entire musical score.
ADVERTISEMENT
Article continues below this ad
According to a report by Kotaku, Pope Francis made an appearance in the Hall of Vatican to partake in the Paul VI General Audience. The hour-long event majorly incorporated religious sermons, which eventually lead to the live performance section. This brought musicians and the entire team of performers on the center stage.
Watch this story: Why is GTA San Andreas so Good?
ADVERTISEMENT
Article continues below this ad
This is where the live musicians kickstarted the epic music from the infamous indie title that became the life of the performance. The live performance also comprised impressive juggling acts with football and many other items. The performers also made use of Hula Hoops, Flaming Batons, and enchanting live music.
What are your thoughts about Pope Francis dancing to the amazing tunes of Undertale? Share your thoughts in the comment section below.