WATCH: What Made Call of Duty Warzone Developers Decide to Nerf the MG 82 Days After Introduction
Published 06/19/2021, 12:31 PM EDT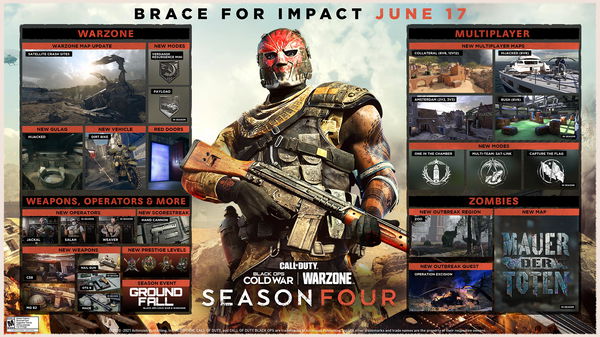 ---
---
Call of Duty entered its fourth season on June 17th. As with every season update, the developers introduced a bunch of new weapons into the game. These include the nail gun, OTS-9 SMG, and even a mace that players can wield. However, the LMG that appeared in the season reveal trailer seems to be the talk to the town.
ADVERTISEMENT
Article continues below this ad
The MG 82 can be seen in the hands of Frank Woods in the reveal trailer as the team goes to secure the satellite. This new LMG possesses the "highest fire rate in class with improved aiming speed" and offers "moderate recoil and damage with increased ammo capacity."
One of the most noticeable things, when you fire this gun, is the insane bullet velocity. Coupled with the complete absence of recoil, this was possibly the most "broken" gun in Call of Duty history. YouTuber, Westie made a video, testing the new guns introduced with the update and it's safe to say he found the MG 82 'obscenely powerful'.
ADVERTISEMENT
Article continues below this ad
Watch this story: Best Warzone snipers
The most 'overpowered' weapon in Call of Duty history
In these clips, you will see how effortlessly Westie mows down opponents with the new LMG. The added thermal scope only makes the lack of recoil on the gun more noticeable. Its deadly accuracy and high time to kill make this gun viable at any range of combat. Thus, it was only a matter of time before Raven Software decided to nerf it.
ADVERTISEMENT
Article continues below this ad
The developers tweeted, "The MG 82 (BOCW) made one too many trips to the Pack-a-Punch machine before deploying to Verdansk. Element 115 is off limits in #Warzone, so we will be making an adjustment to this Weapon soon." Next time you use the weapon, it will probably have a reduced fire rate and added recoil.
While some players are sad to see this weapon nerfed after just one day, it is not feasible to have such an 'overpowered' gun in the game. Did you get a chance to try the MG 82 in its 'broken' state? How was your experience with the weapon? Let us know in the comments down below.
ADVERTISEMENT
Article continues below this ad