WATCH: WWE Hall of Famer Triple H Reveals His All-Time Favorite Video Game
Published 03/26/2022, 9:00 AM EDT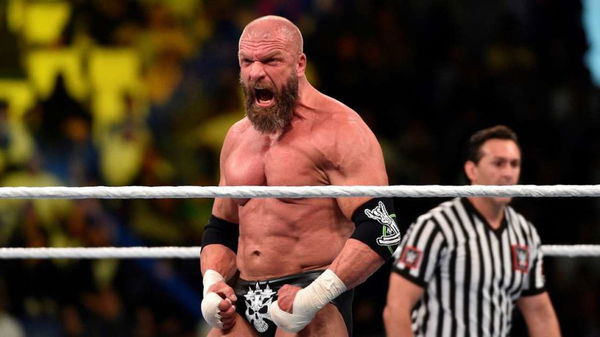 The WWE Superstars have become household names all over the world and are definitely some of the greatest celebrities that people look up to. The activities that they engage in beyond their professional job of wrestling are of interest to several fans and have always intrigued them to their best.
ADVERTISEMENT
Article continues below this ad
Wrestler Triple H has been one of the biggest names in the franchise and has been able to command significant respect and fan following over the course of several years where he has been part of WWE. The Intercontinental and Heavyweight champion talks about his favorite video games and we are here to find out more about those. Have a look at this video to get a better sneak.
ADVERTISEMENT
Article continues below this ad
Triple H shares his love for arcade and video games in this latest interview
The eSports fans who are also into wrestling would be really interested in knowing what must be the games that the WWE veteran Triple H absolutely adores. Well, he has answered the question lingering in everyone's minds and sure he has got a lot to say!
He starts off by saying, "I am old enough to remember when video games were played like you gotta go somewhere and put a quarter to play". In this, he is talking about how the initial craze for arcade games had hit him as well and how he would also jump into the bandwagon for enjoying the game.
READ MORE –  Why Do Some Fans Not Like MrBeast Burger? Breaking Down the Criticism Around the YouTube Star's Widely Known Franchise
Furthermore, he talks about how his kids play some Atari games like Galaga and Tetris on their consoles, which makes Triple H absolutely nostalgic. On the topic of the last video game played, Triple H says it's Metal Gear 3: Solid Snake.
ADVERTISEMENT
Article continues below this ad
He says, "When that stuff was coming out, there was a moment in time when I would get off the road, that I would need something to disconnect, that was kind of the thing. That was a very cool game for me". 
He was modest enough to admit that he wasn't very great at it as he was not aware of the community for the game that existed online. He would go on to talk about how he was stuck at the same level for months and then eventually quit.
ADVERTISEMENT
Article continues below this ad
WATCH THIS STORY –  Toughest Video Game Bosses of all time
What do you think of Triple H's list of favorite video games? Let us know in the comments.