"What Have I Just Watched" – Fortnite Gamer Leaves Marvel Fans Bewildered With Epic Thanos Gameplay
Published 05/08/2022, 2:42 PM EDT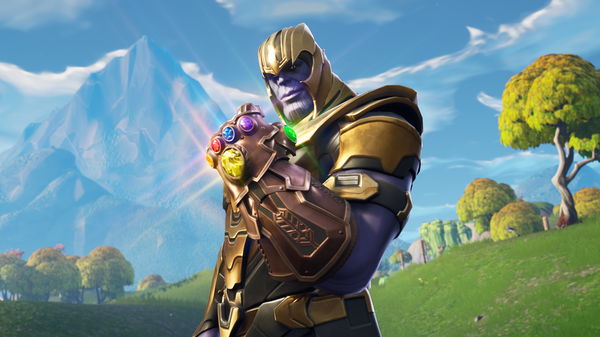 The iconic Fortnite Battle Royale has made its name in the industry. The game is indeed enjoyed by millions, thanks to its stunning crossovers. Epic Games have always delighted the fans by featuring collabs with top celebrities, athletes, streamers, and the list goes on. Among them, the collabs that create mega hype are those featuring superheroes from the renowned Marvel and DC cinematic universe.
Last year, through one such crossover, Fortnite introduced Marvel's badass villain Thanos into the game. That also, with the iconic infinity gauntlet wielding all 5 infinity stones. No doubt, the fans liked it. And earlier today, one popular YouTuber "Hypex" shared an epic 1 vs 1 fight with a Fortnite leaker "FunGames". Surprisingly, both of them fought in Thanos's skin with the Infinity gauntlet, which led to an epic battle.
Watch this story: The Latest Fortnite 20.20 Updates Comes Packed With Some Insane Secrets
On May 8th, "HYPEX" tweeted the same mentioning "Fungames". Don't miss checking out two Thanos brawling with each other, launching beams from the godly Infinity Gauntlet.
According to HYPEX, it is "Fungames" who made this epic battle possible. Further giving credit to the Fortnite leaker, HYPEX stated: "He managed to get it and many things to work, so we tested it and this was the outcome."
Moreover, HYPEX further praised Fungames' work and stated he's very much into 3D art and keeps working most of the time. The tweet has already garnered some attention. It's interesting for the fans as well.
In fact, it might be the first time that fans have witnessed two Thanos fighting each other. Fans have flooded the comment, sharing their opinions. In fact, one fan wants devs to add it to Fortnite's creative mode.
Everything you need to know about Thanos in Fortnite
On June 26th, 2021, Epic Games officially introduced Thanos into the title. As a crossover with Marvel Studios' Avengers: Endgame movie, his look in the title was also based on this movie. Along with the skin, the collab also featured Infinity Gauntlet back bling inspired by the movie.
Know everything about it here.
Fans react to the above tweet
Comment down and let us know about your favorite Fortnite skin. Also, did you enjoy the epic battle between two Thanos?