Why Is Joe Rogan Missing From EA UFC 4?
Published 07/25/2020, 9:03 AM EDT

Follow Us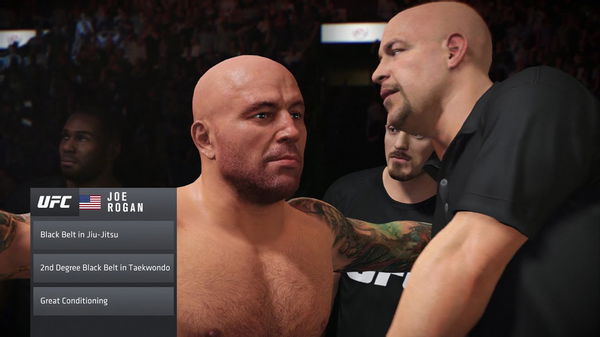 EA Sports is gearing up for the release of UFC 4. The game seemingly has everything, from top-level graphics to a packed roster of UFC fighters. However, one person has been absent since the 3rd edition of the game. Fans expected to see Joe Rogan on commentary for the game this year. Sadly, though, that is not happening. 
Color commentator for UFC, Joe Rogan is one of the biggest names in the business. He is a prominent figure for the company and has a huge fan base of his own. Rogan is also a comedian and has been working with UFC since 1997.
Joe Rogan stays out of EA UFC 4
ADVERTISEMENT
Article continues below this ad
Joe Rogan not being part of the commentary team for UFC 4 is a huge let down for many fans. The reason for the same is Rogan's hatred towards recording voices. The commentator is, apparently, not a fan of voice-overs and has decided not to be part of the video games series. In UFC 3, clips of Rogan's real-life, pay-per-view commentary were used. While that wasn't the best thing, it still provided a degree of authentication to the game.
Creative director Brian Hayes had earlier mentioned how much Rogan hates doing voice-over work.
"Joe Rogan absolutely hates doing voiceover for the game. We've basically come to an agreement that we're not going to ask [Joe Rogan] to do it anymore because he hates it."
ADVERTISEMENT
Article continues below this ad
However, Rogan has appeared in three UFC Undisputed titles and the initial two entries in the franchise. He has since decided to step down. In a recent interview with Gamespot, Hayes further explained why Rogan is missing this year as well.
"He was open with us from the very beginning that he hated his experience of doing voiceover on previous iterations of other UFC games, and things were no different for us. He hated doing voiceover on these games as well. That has nothing to do with us in particular, or, you know, our games versus other games. He just doesn't like sitting in a booth reading lines for hours at a time."
Rogan's hatred for doing voice-over is particularly evident. He is unable to get into that space and the developers couldn't convince him otherwise.
ADVERTISEMENT
Article continues below this ad
With Joe completely out of the game this year, former UFC Light Heavyweight Champion Daniel Cormier and Jon Anik will be taking over commentary. The game officially launches in August for PS4 and Xbox One.
Source: Gamespot