"Will Never Forget You" – TimTheTatman Joins Millions of Warzone Fans in Bidding Adieu to Verdansk
Published 12/08/2021, 2:53 PM EST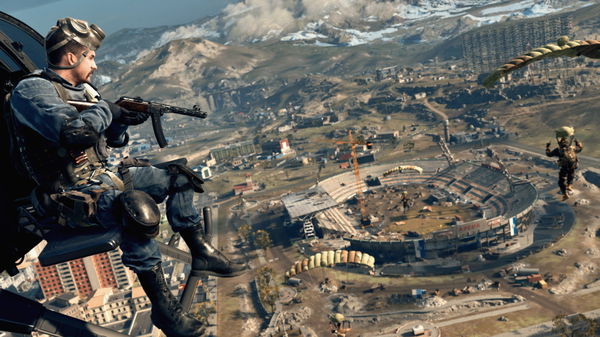 Call of Duty Warzone has has a remarkable journey since its release in March 2020. The battle royale mode took the gaming community by storm and players would hop on the game with their friends to get that victory royale. However, up until now, apart from the Rebirth map, fans were pretty much used to Verdansk. However, with the debut of Caldera, the new Warzone map, streamer TimTheTatman, and the community are bidding the old map a heartfelt goodbye.
ADVERTISEMENT
Article continues below this ad
Watch Story: Most Hated Features of Fortnite Chapter 2
Farewell for Warzone map Verdansk
ADVERTISEMENT
Article continues below this ad
Call of Duty's official handle took to a Twitter post to bid farewell to the main staple map of the game mode.
TimTheTatman has had multiple memorable moments in this map to say the least. Say what you want, during the pandemic, booting up this free-to-play title and hopping on with your friends was quite a memorable experience. One can only remember the hype created with the game mode's premier.
TimTheTatman conveyed his nostalgia and gratitude with a Tweet as well.
I will never forget you verdansk

— timthetatman👑 (@timthetatman) December 8, 2021
ADVERTISEMENT
Article continues below this ad

Fans took to spamming F to bid farewell to the game. 'Press F to pay respects' is an iconic meme that originated all the way back from the days of Call of Duty Advanced Warfare. It is now used as a sign of respect. Players took to different platforms and methods to convey their respect and gratitude as well.
One group of gamers took a selfie. They did so in quite an ingenious manner.  The squad utilized a scope to capture the whole squad alongside a heart sprayed to commemorate their affection for the map. They even added their go to landing spot in the background. Hot dropping or choosing your preferred landing spots has made a huge impact on squad decisions. Certain landing spots have certainly left their mark on players.
ADVERTISEMENT
Article continues below this ad
Well, as all good things, Verdansk will need to come to an end with Caldera gracing Call of Duty Warzone.