"Wish They Would Sell It" – Stunning Pac-Man Themed Console Leaves Xbox Fans Drooling
Published 08/31/2022, 7:17 AM EDT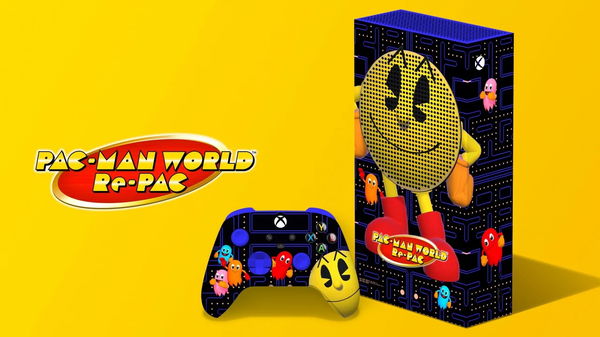 Pac-Man is an arcade classic and has a massive influence on the video game community. Now, Xbox has come up with a one-off console to celebrate the latest installment in this classic video game series. This exclusive console would not only let players play Pac-Man, but also other latest video games.
Pac-Man is one of the oldest games released in 1980 for the arcade. It's been over four decades since the first game was released. However, this maze action video game still remains a cult classic among the gaming community. Recently, the game's creator Namco Bandai released the latest installment in the series Pac-Man World Re-Pac.
ADVERTISEMENT
Article continues below this ad
Xbox released a Pac-Man-themed Series S console
Pac-Man World Re-Pac is a 3D action-adventure video game and a remastered version of the 1999 game, Pac-Man World. Namco Bandai released this game on August 25, 2022, for multiple platforms, including Xbox consoles like Series X and S. The game features advanced gameplay, meaning Pac-Man and Ghosts have a new and refined appearance.
So to celebrate the release of the new Pac-Man game, Xbox tied up with the developers to come up with an exclusive console. The console and controller feature the classic maze along with the Ghosts and protagonist Pac-Man. The exclusive console also features a lot of purples, the same color as the maze's walls. The Xbox Series S also features the logo of the latest Pac-Man game.
Undoubtedly, this exclusive console would be a treat for fans. Unfortunately, there is only one console, and nobody can buy it. But one lucky person can get their hands on this exclusive Xbox Series S. The fans need to participate in the Sweepstakes Event, which will take place between August 30 and September 19, 2022. However, the participants need to be above the age of 18 to be eligible for this event.
How did the fans react to the Pac-Man-themed Series S console?
The fans took quick notice of Xbox sharing about this Pac-Man-themed console. Most fans appreciated the console's designs. Some even felt bad, as only one person could get this unique Series S console. Further, some fans wished they could gift the console to their relatives who enjoyed playing Pac-Man.
hopefully i win this absolute unit of a console looks so good it makes me feel like to dance to the theme of pacman and the ghostly adventures pic.twitter.com/XRJ4LLFuux

— Pac-Man Lover (@NehariInAFerari) August 30, 2022
Wish they would sell it

— Christian Stokes 🏄 (@Surfing4Life) August 30, 2022
ADVERTISEMENT
Article continues below this ad
Hello Xbox i would like to give u the pros and cons of giving me the Xbox the pros 1. it's would look great in my room 2. I would have a good time 3. I would play halo the cons 1. I would never get off it 2. I would get shouted at for playing it too much if thank you Xbox love u

— Rory Mckinlay (@MckinlayRory) August 30, 2022
ADVERTISEMENT
Article continues below this ad
It is an excellent opportunity for Pac-Man fans to get their hands on an exclusive console. Are you going to participate in the Xbox Series S Sweepstakes event?
WATCH THIS STORY: Top Selling Playstation, Nintendo, And Xbox Consoles Of All Time