WWE Fan Triggers Furious Debate Among Gamers With a Simple Sign Behind Brock Lesnar Adversary
Published 01/11/2022, 2:33 PM EST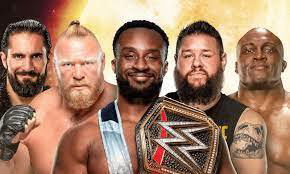 ---
---
Brock Lesnar, The Rock, John Cena, Stone Cold Steve Austin are household names amongst wrestling fans, all featuring in the extremely popular WWE. From trying to replicate the moves of their favorite stars, to comparing statistics to collecting trading cards, WWE fans are extremely engaged with the promotion.
ADVERTISEMENT
Article continues below this ad
Another popular feature of the show are the placards that audiences in the WWE arenas carry. In a bizarre turn of events, this fan placard behind Bobby Lashley has stirred up a massive video game debate.
Watch Story: Most Hated Features of Fortnite Chapter 2
ADVERTISEMENT
Article continues below this ad
Hilarious placard in the backdrop of Brock Lesnar adversary creates massive debate
Suzi Hunter is a YouTuber who focuses on a lot of things regarding gaming. Recently the WWE official Twitter handle posted a picture. The picture was of the adversary of Brock Lesnar, Bobby Lashley. However, the placard in the background was eye-catching, to say the least.
The fan's placard did not pertain to the match at all. Instead, it was about video games. The placard read, "Resident Evil 4 is the GOAT !!". Adding on, he also made a completed unrelated comparison underneath between Resident Evil Survivor and Final Fantasy VIII. This comparison sparked a very fiery debate between fans of both titles. Adding on, there was unanimous love for the classic title Resident Evil 4 between both sides.
I love how the "RE SURVIVOR > FF8" take is completely unrelated to the to the "RE4 goat" part. Guess the guy really wanted to mention his psx games preferences.

— Leon (@Leonsken62) January 11, 2022
comparing RE Survivor to FF8 is like comparing one dumpster to another, slightly dirtier dumpster

— GARBAGGIO GOBLINO (@Gib_Shekels) January 11, 2022
Resident Evil 4 is proof that there is absolute goodness within humanity and in the end we might just be alright.

— Jay Gatsby (@JayGatsby77) January 11, 2022
survivor better than final fantasy 8? i wish to pick their brain further

— 𝕮𝖔𝖒𝖒𝖎𝖊 𝕸𝖔𝖒𝖒𝖎𝖊 (@Swaggerotica) January 11, 2022
ADVERTISEMENT
Article continues below this ad
Additionally, this placard comes just on the anniversary of Resident Evil 4. Resident Evil 4 is quite justifiably one of the most memorable games from the series. WWE is known for its absurdly entertaining placards and banners.
Resident Evil Survivor has drawn its fair share of flak from the community. The graphics are a huge letdown, the mediocre voice acting does not make matters better. The controls are extremely clunky as well. Combined with poor animations as well, all in all, the game is quite clunky. Compared to the rest of the franchise, it is nothing to write home about.
Final Fantasy 8 is not really loved by the community as well, mainly due to its drastic tonal shift. What's your take on the debate?
ADVERTISEMENT
Article continues below this ad