Xbox's 20th Anniversary Controller Features a Subtle Touch From Boss Phil Spencer
Published 11/14/2021, 1:56 PM EST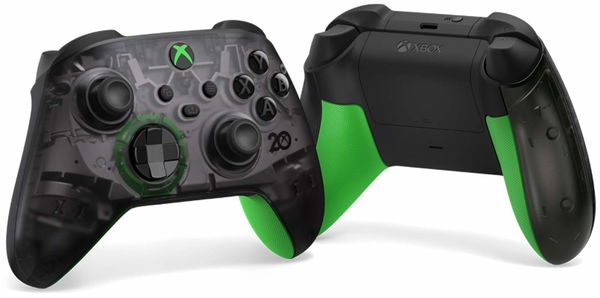 Xbox is keen to celebrate its 20th anniversary and the fans are definitely up for a treat this time. Xbox will launch a brand new controller to commemorate its 20th birthday, and it looks great. The controller is translucent with neon green accents and features a small Xbox 20 logo. Furthermore, the controller carries an autograph by Xbox's Phil Spencer on its back.
ADVERTISEMENT
Article continues below this ad
Xbox finds a grand way to celebrate its 20th anniversary
ADVERTISEMENT
Article continues below this ad
Xbox's 20th Anniversary stream will feature the launch of the Xbox 20th Anniversary special edition controller, which is translucent and has neon green accents. The controller also features the signature of Xbox boss Phil Spencer. The signature is featured under the panel covering the batteries and contains the phrase, "When everybody plays, we all win."
Verge's Tom Warren shared pictures of the controller on Twitter. And the controller indeed looks quite amazing!
Furthermore, Seamus Blackley, who is considered the Father of Xbox, shared a special message to the Xbox fans ahead of the console's 20th birthday.
WATCH THIS STORY –  Video Game Franchises returning to console
ADVERTISEMENT
Article continues below this ad
In the above video, Blackley says, "The real people who made Xbox successful are gamers and fans, you guys. Without the support of the people who took the risk to buy the thing, it never could have succeeded."
Blackley was very much grateful to all the stakeholders who have made this console an immense success within the gaming community. He says, "It was something that..you know..took some intestinal fortitude to be an Xbox fan. And I really appreciate that. The credit is yours. So thank you."
The anniversary stream won't feature any game announcements, but fans can expect an exciting showcase that will inspire nostalgia. The stream will air on November 15, 2021, at 10 AM PT/1 PM ET/ 5 PM GMT.
ADVERTISEMENT
Article continues below this ad